Ultimate Almond+ Nut Flour: A Low-Carb, Gluten-Free Flour Built for Baking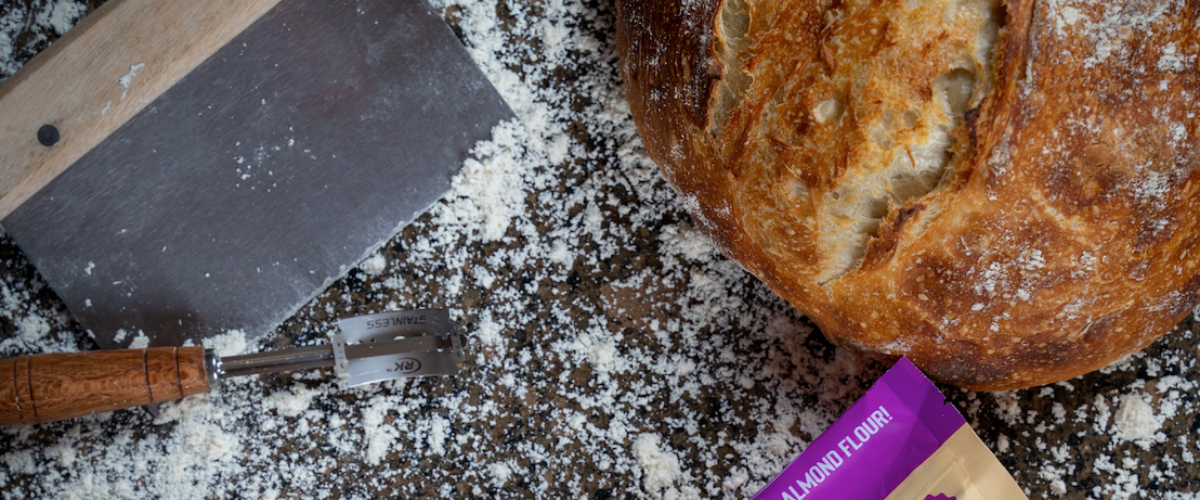 You already know we live for a low-carb, gluten-free pastry. With our Ultimate Almond+ Nut Flour, we've made it that much easier for you to whip up your favorite better-for-you baked goods. Here's how it works:
What is Nature's Eats Ultimate Almond+ Flour?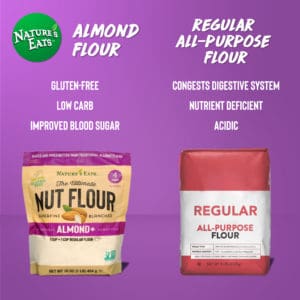 If you wanna healthify your home baking, Nature's Eats Almond+ Flour is ready to rise to the occasion. Our Original Nut Flour Almond+ is a first-of-its-kind flour swap for all of your doughs, batters, and breads. It's also gluten-free, nutrient-rich, and incredibly easy to use in your favorite recipes. Here's why you need it in your pantry:
It has less than half the net carbs of traditional all purpose flour and GF flour alternatives. Clocking in at just 8g net carbs per serving (vs. all purpose at ~22g), this easy-to-use alternative is perfect for a lower-carb lifestyle.
It's easy as (gluten free) pie. We designed our GF flour blend with bakers in mind. Simply replace 1 cup of traditional flour with 1 cup of Almond+ in your favorite recipes. No complicated conversions necessary.
It's nourishing. We make our enhanced Almond+ flour from a combination of almond flour, coconut flour, tapioca flour, arrowroot powder, and xanthan gum. No mystery ingredients, but plenty of heart-healthy fats and vitamins. Almonds have been linked to a variety of health benefits – including lower cholesterol and lower blood pressure, so no more feeling guilty about sneaking that extra cookie.
It rises and kneads like a champ. As avid gluten-free bakers, we know how complicated it can be to replicate the rise and texture of all-purpose flour. So we did the work for you! Since traditional nut flour is more dense, we added xanthan gum for elasticity and stickiness, arrowroot powder for texture and structure, tapioca flour to help bind and thicken, and coconut flour for extra rise.
It's flavorful. Say "ta-ta" to tasteless flour. The number one thing we hear from customers who make the switch: "Almond+ added so much flavor to my favorite recipes!" Infuse your food with natural, nutty goodness.
What's the difference between Almond+ and regular almond flour (or other nut flours)?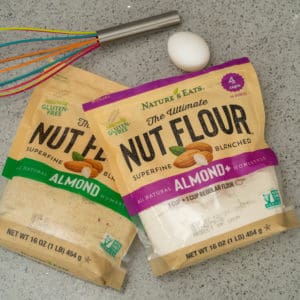 If you're already a nut flour fan, you know that they're a delicious way to add nutrients and flavor to your favorite gluten-free recipes. What single-ingredient nut flours don't offer, however, is the rise of traditional all-purpose flour. While cashew, pecan, almond, and walnut flour are all wonderful ingredients in cooking (see more recipe ideas here), they often require some additional know-how and ingredients when used for baked goods that need to rise. In response, we created Almond+ to mimic the rise and texture of all-purpose flour without any of the hassle. It's a simple 1:1 swap for all purpose flour with all the health benefits of traditional almond flour. 
Where can I find it?
You can pick up our Ultimate Almond+ Flour online and in Walmart stores nationwide. Look for the purple stripe on the package!