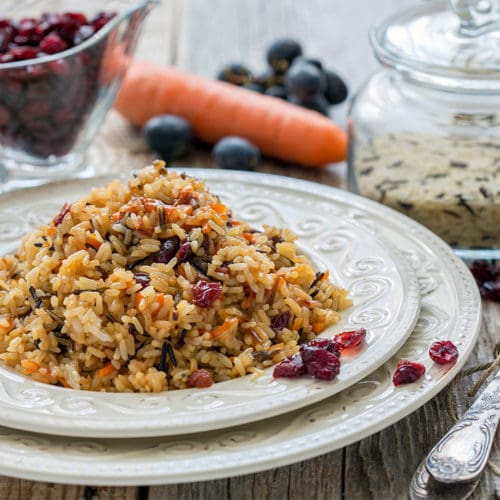 Wild Rice Blueberry Salad
Wild rice dishes such as this Wild Rice Blueberry Salad can be so delicious and satisfying. You can also substitute other grounded and earthy flavors like brown rice or quinoa. This will likely become one of your favorite wild rice dishes.
Ingredients
Salad Ingredients:

2 cups water

1½ cups cooked wild rice

2½ cups baby kale or baby power greens

½ cups baby carrots, chopped

½ onion, thinly sliced

2 tablespoons olive oil or avocado oil

4 tablespoons mixed herbs (basil, cilantro, mint, parsley, etc.), chopped

4 tablespoons Nature's Eats Slivered Almonds or Nature's Eats Pistachios

2 tablespoons Nature's Eats Golden Raisins, Dried Cranberries. Dried Blueberries (optional)

 

Dressing Ingredients:

½ cup extra virgin olive oil

4 tablespoons pomegranate juice

1½ teaspoons Dijon mustard

Juice of 1 lemon

Salt & Pepper to taste
Instructions
Prepare dressing: In a small jar combine olive oil, pomegranate juice, mustard, lemon, sweetener, salt, and pepper. Securely fasten the lid to the jar and shake until well combined. Set aside.

In a medium saucepan bring water to a boil, then add rice. Reduce heat, cover and simmer for 35 minutes or until rice becomes al dente. Drain and transfer rice into large bowl.

Heat oil in a medium skillet. Add carrots and onions and sauté for 3-5 minutes, or until the onions become soft. Remove from heat and allow to cool.

Add onion mixture to the bowl of rice. Stir in kale and herbs. Drizzle with dressing and toss. Add Nature's Eats Slivered Almonds or Nature's Eats Pistachios, dried fruit and blueberries. Toss once more and serve.