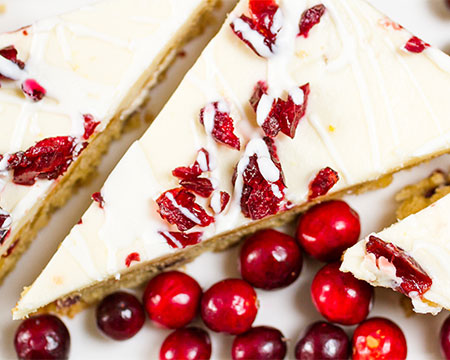 White Chocolate Cranberry Banana Bark
Dried cranberries combined with banana crisps are a simple, pretty and delicious recipe which taste amazing!
Ingredients
12 ounces white baking chocolate

1 cup Nature's Eats Dried Cranberries

¾ cup Nature's Eats Banana Crisps (coarsely chopped)
Instructions
Line bottom of jelly roll pan with parchment paper. Fill sauce pan with approx. 1 inch of water and bring to simmer.

Place chocolate in heat-proof bowl and set over sauce pan (DO NOT allow water to boil or the bottom of the bowl to touch the water). Cook, stirring often until 2/3 of the chocolate is melted. Remove from heat and continue to stir until chocolate is melted and smooth.

Gently stir one-half of Nature's Eats Dried Cranberries and one-fourth of chopped Nature's Eats Banana Crisps into the chocolate. Use a spatula to spread in an even layer across pan. Sprinkle remaining cranberries on top of chocolate, pressing down gently, then top with banana crisps.

Let bark stand at room temperature until solid (about 30-45 minutes), or place in refrigerator for 10-15 minutes to harden the mix more quickly. Break into pieces before serving.