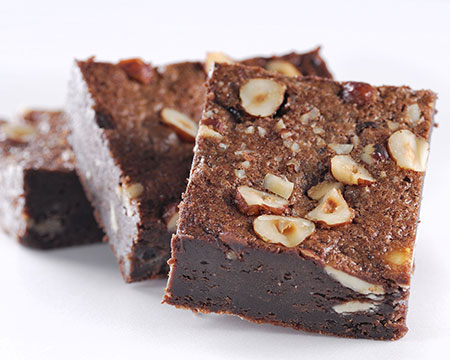 Walnut Pecan Fudge Brownies
Double the crunch with this nutty chocolate ending reminiscent of childhood.
Ingredients
½ cup sugar

½ cup butter, cut up

3 tablespoons unsweetened cocoa powder

1 egg

½ teaspoon vanilla

1⁄3 cup all-purpose flour

¼ teaspoon baking powder

1⁄8 teaspoon salt

¼ cup chopped Nature's Eats Chopped Walnuts

¼ cup chopped Nature's Eats Pecan Pieces

1 recipe Cocoa Glaze
Instructions
Line a 9 x 5 x 3 inch loaf pan with foil, extending foil over ends. Grease foil; set pan aside. In a small saucepan stir together sugar, butter, and cocoa powder. Cook and stir over medium heat until butter is melted. Remove from heat; cool for 5 minutes.

Add the egg and vanilla to cocoa mixture. Using a wooden spoon, beat lightly just until combined. Stir in the flour, baking powder, and salt. Stir in Nature's Eats Walnuts and Pecans. Spread the batter in the prepared loaf pan.

Bake, uncovered, in a 350° oven for 12-15 minutes or until a toothpick inserted near center comes out clean. Cool in pan on a wire rack. Using the ends of foil, lift brownies out of pan. If desired, frost with Cocoa Glaze. Cut into triangles.

Cocoa Glaze: In a small bowl combine ½ cup sifted powdered sugar, 1 tablespoon unsweetened cocoa powder, 1 tablespoon softened butter, and¼ teaspoon vanilla. Beat in enough hot water (2-4 teaspoons) to make a glaze of spreading consistency.