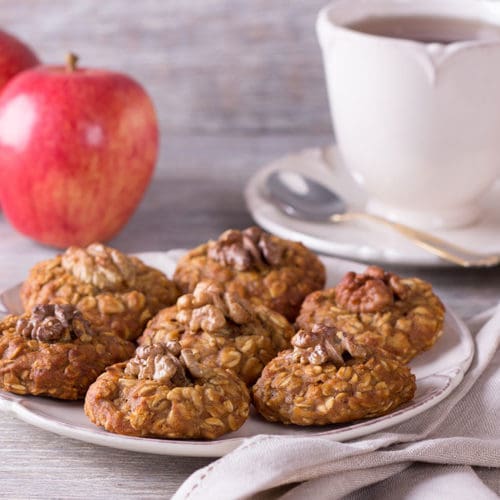 Walnut Oatmeal Cookies
This simple walnut cookie recipe is simply delicious and easy to make.
Ingredients
1½ all-purpose flour

1½ cups old-fashioned oatmeal

½ teaspoon baking soda

8 ounces (2 sticks) unsalted butter, softened

¼ cup granulated sugar

1 cup packed light brown sugar

1 teaspoon salt

1 teaspoon pure vanilla extract

2 large eggs

8 ounces white chocolate, chopped

7 ounces Nature's Eats Walnut Pieces (1½ cups)
Instructions
Preheat oven to 350°F.

Mix flour, oatmeal, and baking soda in a medium bowl. With a mixer, cream butter and sugars until light and fluffy. Reduce to low speed. Add salt, vanilla, and eggs, and beat for 1 minute until well combined. Add flour mixture gradually, beating until just combined. Stir in chocolate and Nature's Eats Walnut Nuggets. Cover, and refrigerate until cold, about 30 minutes.

Drop heaping tablespoons of dough onto parchment-lined baking sheets, spacing 2 inches apart.

Bake until cookies are golden brown around the edges but still soft in the center, 14 to 16 minutes. Let cookies cool on baking sheets for 2 minutes. Transfer cookies to a wire rack. Let cool.