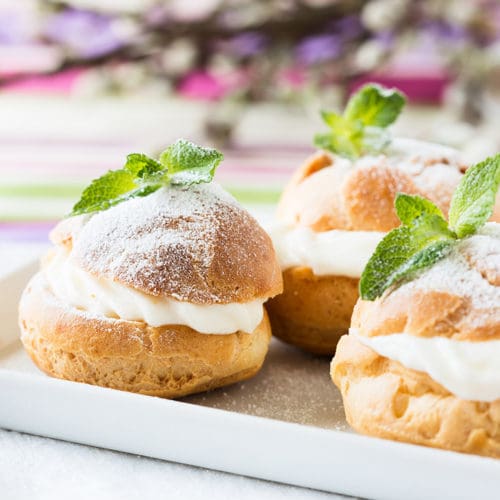 Vegan Mini Cream Puffs
Making cream puffs is a culinary art, from making the outer mini puff shell to whipping up the delectable creamy filling for the center. Cream puffs are not always easy to prepare, but don't let that keep you from trying! Just be patient when you make these Vegan Mini Cream Puffs, even if you are a beginner baker.
Ingredients
Egg Replacement Ingredients

1 teaspoon baking powder

6 tablespoons warm water

3 tablespoons tapioca starch

¼ teaspoon cream of tarter

1½ teaspoons guar gum

 

Outer Dough Ingredients

1 cup water

¼ cup Nature's Eats Almond Flour

¼ cup gluten free flour

¼ cup tapioca flour

2 tablespoons coconut oil

¼ teaspoon nutmeg

1 teaspoon agave

½ teaspoon salt

1 teaspoon vanilla

 

Filling Ingredients

1 (8 ounce) can coconut cream

¼ cup powdered sugar

2 teaspoons vanilla
Instructions
Preheat oven to 375°F.

Whip together egg replacer using either a mixer or Vitamix machine until you get a whipped and thick consistency.

Add the outer dough ingredients, then whip consistently until a thick dough has formed.

Transfer dough into a quart-size plastic bag and cut the corner of the bag. Place parchment paper on a baking sheet.

Squeeze out dough (in approximately 2 tablespoon sized drops) on 1-2 baking sheets. Place in the oven and bake for 20-25 minutes. The tops should be slightly golden brown. Remove from oven and allow puffs to cool.

For the filling, use a Vitamix machine or a mixer to whip the coconut cream and powdered sugar on medium for about 1 minute.

Add vanilla and then run on high until cream thickens. Place in fridge to continue thickening for 30 minutes.

Put the filling cream in a separate quart-size plastic bag. Right before using cut the corner of the bag.

Make an incision in the bottom of each mini cream puff pastry and then use the whipped filling to squeeze into each puff in the place of the incision. You can also cut off &frac34 top of each puff and insert the filling that way.

After filling the mini puffs, you can store in the fridge until ready to serve.