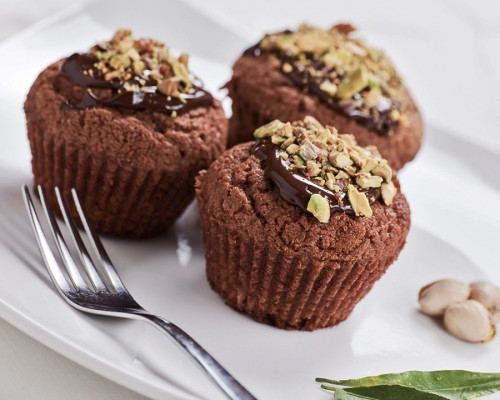 Tumeric Matcha Muffins
Tumeric Matcha Muffins are low sugar, gluten-free and easy way to incorporate superfoods into your diet.
Ingredients
Muffin Ingredients

½ cup Nature's Eats Almond Flour

½ cup coconut flour

1⁄8 cup Raw Agave

2 tablespoons Matcha Green Tea Powder

¼ cup brown sugar

1-2 mashed up brown ripe bananas

1 egg

½ cup olive oil

1 teaspoon baking powder

½ tsp baking soda

2 teaspoons turmeric

½ cup almond milk

1 teaspoon vanilla extract

 

Chocolate Glaze Ingredients

¼ cup dark chocolate chips or chunks

1-2 tablespoon coconut oil

handful of Nature's Eats Pistachios
Instructions
Pre-heat the over to 350°F. Place muffin liners in a muffin pan for 9 muffins and set aside.

In a large bowl, whisk together the brown sugar, egg, vanilla, almond milk, oil, banana, and agave until mostly smooth. Add in the rest of the ingredients, continuing to mix and blend well together.

Using a large spoon, scoop batter into each muffin cup until approximately ¾ full. Bake in oven for 20-25 minutes or until you can poke cleanly with a toothpick.

Melt the chocolate and coconut oil on the stove using low heat. Alternatively, you can heat the chocolate in the microwave at 30-second intervals until melted. Spread melted chocolate on top of each muffin and garnish with Nature's Eats Pistachios.

Allow muffins to cool before serving. Can be stored in an air tight container for 3 days. You can also freeze them for up to a month.