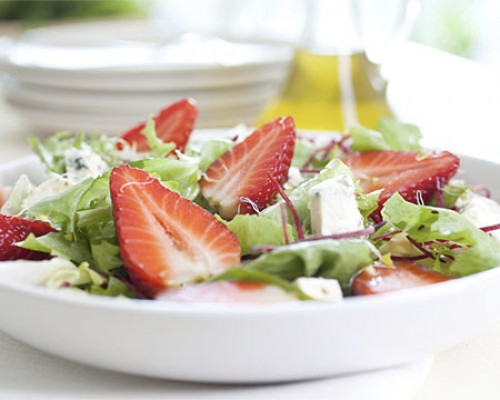 Thee Salad
Our walnuts make this salad delicious! Mixed together, this salad makes the mouth water.
Ingredients
2 heads romaine lettuce

1 head iceberg lettuce

1½ cups grated monterey jack cheese

1½ cups sliced strawberries

2 cups Nature's Eats Chopped Walnuts

1½ cup sugar

¼ cup water

1⁄3 - ½ cup (personal taste preference) white balsamic (such as The Oilerie balsamic)

1 cup olive oil (The Oilerie roasted walnut is fantastic)

dash of white pepper

¼ teaspoon paprika

½ teaspoon garlic powder

½ teaspoon salt
Instructions
Tear washed romaine and iceberg into salad size pieces slice strawberries into quarters. Glaze Nature's Eats Chopped Walnuts by placing ¾ cup sugar, 2 cups walnuts, and ½ cup water in microwave-safe glass measuring cup. Cook on high in microwave for approx 8 minutes, stirring every 2 minutes.

Once the walnuts are coated and sugar is caramelized, remove from microwave, spread on baking sheet to cool. Once cool, break up nuts. Use as a topper on salad, will have leftovers for ice cream!

Make dressing and chill few hours or overnight. Mix together ¾ cup sugar, white balsamic, olive oil, pepper, paprika, salt, and garlic. Mix greens, strawberries, and grated cheese in a large serving bowl. Top with glazed walnuts, drizzle with chilled dressing.