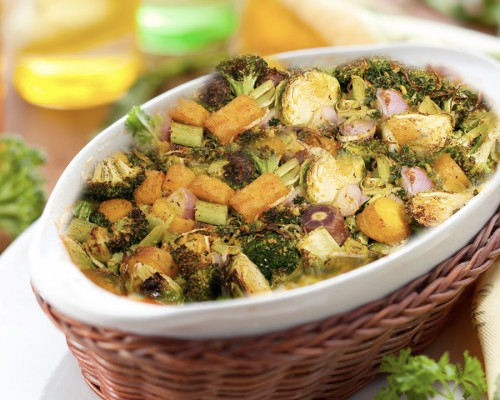 Sweet Potato Shepherd's Pie
This vegetarian Sweet Potato Shepherd's Pie is hearty, filling, and full of flavor. It is fully sufficient in being its own meal and you could also serve it on top of brown rice or quinoa.
Ingredients
Filling Ingredients

4-5 tablespoons olive oil

1 head of broccoli, cut into small florets

2-3 cups of brussels sprouts, cut in halves

1-2 cups pearl onions or shallots cut into halves

1 leek, well rinsed and thinly sliced, only the light green and white parts

2-3 carrots diced into ½ inch pieces

2 celery sticks diced

½ cup Nature's Eats Sun Dried Tomatoes

1 (15 ounce) can of white beans

8 ounces of freshly halved crimini mushrooms

3 garlic cloves minced

¼ cup fresh herbs (thyme, rosemary, oregano, etc)

1-2 cups fresh parsley, tops only

salt and pepper to taste

 

Sauce Ingredients

1½ cups vegetable stock

¼ cup fresh thyme and rosemary

2 tablespoons arrowroot powder (or more if needed as a thickener)

salt and pepper to taste

 

Sweet Potato Topping Ingredients

2 large sweet potatoes (chopped and peeled)

2 cups small potatoes (various colors or just white; chopped and peeled)

2-3 large garlic cloves

2-4 tablespoons coconut oil

¼ cup coconut cream

2 tablespoons coconut milk

salt and pepper to taste
Instructions
Preheat the oven to 425&degF.

Filling: In a roasting pan, toss all the vegetables and good portion of your fresh herbs, salt, and pepper in olive oil, leaving out the white beans, mushrooms and Nature's Eats Sun Dried Tomatoes. Place in the oven and roast at 425°F for about 25 minutes or until they start looking cooked.

While letting the vegetables and herbs roast, sauté the mushrooms in coconut oil or ghee on medium to high heat with a handful of thyme, rosemary, and garlic. Place them to the side.

After removing the vegetables, lower the temperature of the oven to 375°F.

Sauce: In a small saucepan, heat up the vegetable stock and herbs (thyme and rosemary) over medium to high heat and then begin to simmer. Carefully whisk in the arrowroot powder to thicken the sauce. Try to avoid lumps by sprinkling in a little at a time.

Add in the beans, sun-dried tomatoes and mushrooms to the veggies. Pour the sauce on top of the veggies and evenly distribute them. Do this slowly in case you decide not to use all the sauce.

Transfer the filling into a lightly greased glass baking pan and place to the side.

Topping: Next, boil the potatoes with the garlic and some salt and then bring to a simmer for about 12 minutes. Once the sweet potatoes and potatoes are nice and tender, drain them and place them back into the pot.

Add your coconut oil and use a potato masher to make them smooth and creamy. Add your coconut cream, coconut milk, and coconut oil along with some salt and pepper to taste.

Smooth the mashed potatoes combination over the vegetable filling and spread it evenly.

Bake in the over at 375°F for 30-35 minutes, or until cooked to your preference. The top should become a crispy, golden brown with the filling bubbling underneath. You can place under a broiler for the last few moments.

Let cool for a few minutes and then serve while still hot. This will also make a great leftover dish.