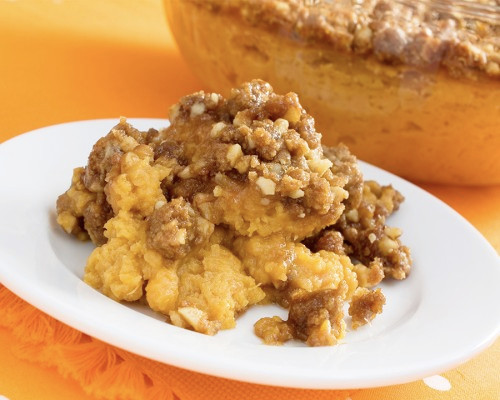 Sweet Potato Pecan Casserole
If you are looking to get creative over the holidays without compromising taste, this Sweet Potato Pecan Casserole Recipe is sure to be a winner!
Ingredients
4 cups cubed sweet potatoes

2 eggs beaten

½ teaspoon sea salt

7 tablespoons butter, softened

½ cup full fat coconut milk or cream

½ teaspoon vanilla extract

1 cup brown sugar

1⁄3 cup Nature's Eats Almond Flour

½ cup chopped pecans
Instructions
Preheat over to 325¶deg;F.

Place sweet potatoes in a medium saucepan with water and cover. Cook on medium-high heat until tender and then drain and mash the potatoes.

In a large bowl, mix together the sweet potatoes, ½ cup brown sugar, eggs, salt, 4 tablespoons butter, coconut milk and vanilla extract until smooth. Transfer to a 9 x 13 inch baking dish.

In a medium-sized bowl, mix together the remaining brown sugar and butter with flour. Keep cutting into the butter until the mixture is coarse. Add in the pecans and then sprinkle the mixture over the sweet potato base.

Bake for 30 minutes or until the top is lightly golden brown.