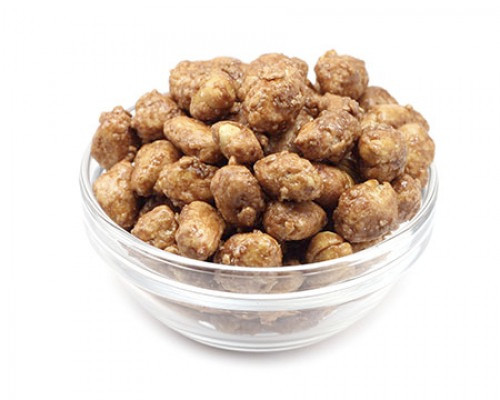 Simple Nut Appetizer
Eat this and forget dinner! A sweet start to any meal.
Ingredients
½ to 1 cup sugar

½ teaspoon salt

¼ teaspoon ground nutmeg

1 teaspoon ground cinnamon

1⁄8 teaspoon ground cloves

2 tablespoons butter

1 teaspoon vanilla

2 tablespoons water

1 cup Nature's Eats Nuts, toasted
Instructions
Combine sugar, salt, nutmeg, cinnamon, cloves, butter, vanilla and water in a saucepan. Cook stirring constantly until a small amount dropped into cold water forms a softball, about 236°F on a candy thermometer.

Stir in toasted Nature's Eats Pecans, Cashews, Walnutsor Mixed Nuts. Remove from heat and stir until no longer glossy. Pour into buttered baking sheet and spread thinly. Cool, and break into pieces.

To toast nuts, spread out in a single layer on a baking sheet. Toast in a 350°F oven, stirring occasionally, for 10 to 15 minutes. Or, toast in an ungreased skillet over medium heat, stirring, until golden brown and aromatic.