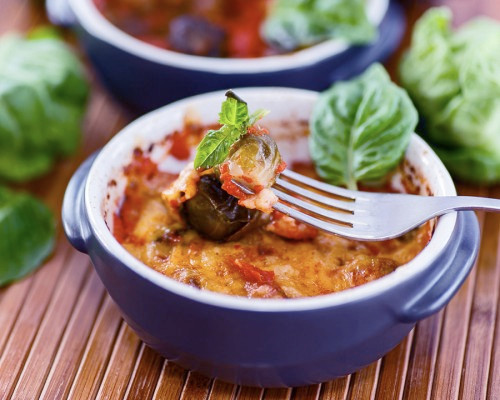 Roasted Brussels & Butternut Squash Curry
It's the time of year when quick squash recipes are popular, and this Vegetable Curry Casserole may become one of your favorites! There is something wonderful about the fall season and meals with butternut squash. It is comfort food that will allow you to feel relaxed and happy, Celebrate the fall season with this beautiful Vegetable Curry Casserole.
Ingredients
1 butternut squash, peeled and chopped

2 cups Brussels sprouts, chopped

3-4 garlic cloves, minced

Salt and pepper to taste

2 teaspoons thyme

2 teaspoons rosemary

2 teaspoons curry powder

½ teaspoon cayenne pepper

¼ cup extra virgin olive oil

½ cup Nature's Eats Slivered Almonds,

Nature's Eats Sliced Almonds or Nature's Eats Pumpkin Seeds

1 can garbanzo beans, drained

 

Yogurt Sauce Ingredients

2 cups full-fat Greek yogurt

1 bunch cilantro, finely chopped

3 tablespoons lemon juice

Salt and pepper to taste
Instructions
Preheat oven to 425°F.

Place in a large bowl: butternut squash, Brussels sprouts, garlic, olive oil, salt, pepper, thyme, rosemary, curry powder, and cayenne pepper. You can determine the level of heat based on your personal preference by lessening or increasing the curry and cayenne.

Add nuts or seeds and seasonings to the veggies. Gently blend, then place in baking dish. Top with garbanzo beans and put into the oven, uncovered, for 25 minutes.

Increase to broil at 475°F and broil for 5-7 minutes, or until top layer is slightly golden brown. Remove from the oven to avoid burning. Allow cooling while preparing the sauce.

To make yogurt sauce: Place yogurt, cilantro, lemon juice, salt and pepper in a small bowl and mix until blended well.

Serve Vegetable Curry with yogurt sauce on the side.