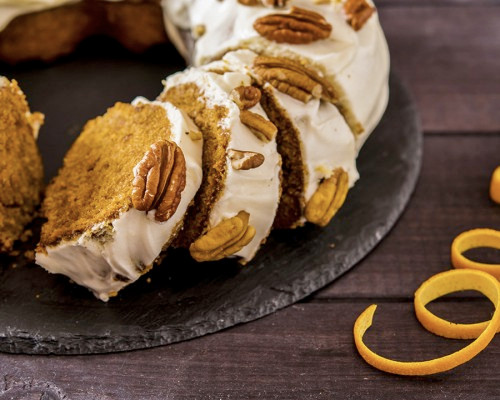 Raw Vegan Carrot Cake
This Raw Vegan Carrot Cake recipe is among the top ten of all raw desserts, guilt-free desserts, and any vegan dessert recipe. It is a gluten-free cake and has the perfect flavoring and texture and is chock full of good whole foods and nutrition.
Ingredients
½ cup raw Nature's Eats Shredded Coconut

1 cup shredded carrots

1 teaspoon pumpkin pie spice

½ teaspoon cinnamon

1⁄8 cup Nature's Eats Raisins or California Dates

1 teaspoon vanilla

1 cup almond pulp (Make Almond Milk to create almond pulp)

2 tablespoons orange juice

Pinch orange zest

1⁄3 cup soaked Nature's Eats Walnuts, soaked 6 to 8 hours

1⁄3 cup raw Nature's Eats Pecans

1-2 tablespoons raw agave
Instructions
Process shredded coconut in the food processor until oils begin to appear, approximately 30 seconds. Add shredded carrots and process until well distributed. Do not over process.

Chop dates and add to shredded coconut. Add in pumpkin pie spice, cinnamon, raisins, and vanilla. Process until dates and raisins are broken down into small chunks. Add almond pulp and process until mixed well. Add orange juice and zest and continue to process for 20 seconds.

Chop walnuts and pecans into small pieces. Stir nuts into cake mix and add agave to taste.

Mold the cake either by hand or by pressing into a medium-sized bowl lined with parchment paper. Place cake in the freezer for approximately 20 minutes.

Spread cake with your choice of frosting or try this Raw Cashew Frosting Recipe.