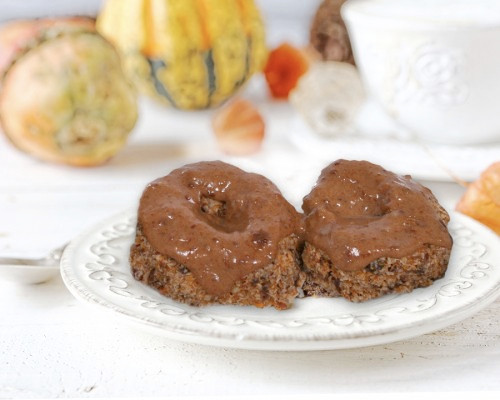 Raw Pumpkin Donuts
If you are looking for a healthy donut recipe, look no further. This recipe for Raw Pumpkin Donuts is one of those raw healthy desserts that you can make any time of year. It is pumpkin-based, but you can substitute any seasonal squash when pumpkin is not available. Pumpkin donuts that are healthy are hard to come by and this recipe is the easiest way to go when learning how to make vegan donuts.
Ingredients
1 cup Nature's Eats Pecans

1 cup Nature's Eats Shredded Unsweetened Coconut

¼ teaspoon salt

2 teaspoons pumpkin spice (ginger, nutmeg, cinnamon, and cardamom)

1 tablespoon agave

1 teaspoon vanilla

15 Nature's Eats California Dates

1½ cup shredded pumpkin or squash

 

Pumpkin Frosting Ingredients

15 Nature's Eats California Dates

2 tablespoons raw almond butter

2 tablespoons agave

2 teaspoons vanilla

6 tablespoons water

½ teaspoon salt

2 tablespoons coconut oil

1 teaspoons pumpkin spice
Instructions
Process pecans, coconut and salt in a food processor until it becomes a fine crumb texture. Add spices, agave, vanilla, and dates and process until well mixed.

Add the squash and pulse until blended but not pureed.

Form the mixture into 8 donuts on a dehydrator sheet and dehydrate for 5-6 hours or until the outside is dried and inside is still slightly moist.

While the donuts are dehydrating prepare Pumpkin Frosting. Place all ingredients into a blender or Vitamix machine and completely liquefy. Add more water as needed. Place to the side in a bowel until donuts are ready.

Once donuts are ready, remove them from the dehydrator. Top with Pumpkin Frosting and serve.

May store for 5-6 day refrigerated in an air tight container.