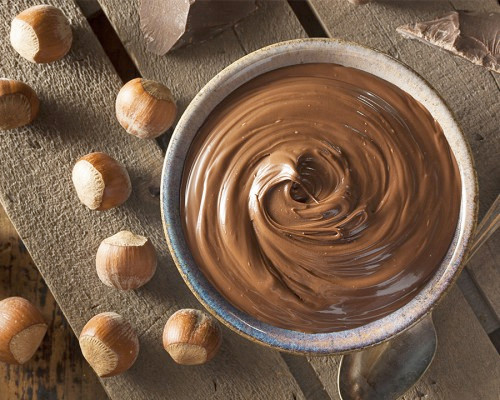 Raw Hazelnut Spread
When you are trying to find healthier alternatives to satisfy your sugar cravings any treat made with nuts is a good direction to go. Nuts are high in protein and good healthy fats that will help satiate you quickly and keep you satisfied longer. Healthy homemade hazelnut spread is the perfect chocolate nut spread treat to have in your home. You can eat this vegan hazelnut spread recipe with fruits, crackers, cookies, toast, or even on its own and still reap all the benefits of healthy eating.
Ingredients
2 cups Nature's Eats Raw Hazelnuts

¼ cup cacao powder

16 dates

¼ cup maple syrup

Pinch of sea salt

1 cup water or nut milk, such as Nature's Eats Almond Milk

2½ tablespoons coconut oil

1 teaspoon Nature's Eats Vanilla Extract
Instructions
Place hazelnuts in a Vitamix machine or blender. Start on low speed and gradually take to a higher speed while using a tamper to push ingredients down into the blade. Continue to process until nuts begin to get sticky, right before it becomes a nut butter stage.

Add the remaining ingredients and continue to process until it becomes smooth and creamy and turns into a thick chocolate spread. Add more water or nut milk as needed.