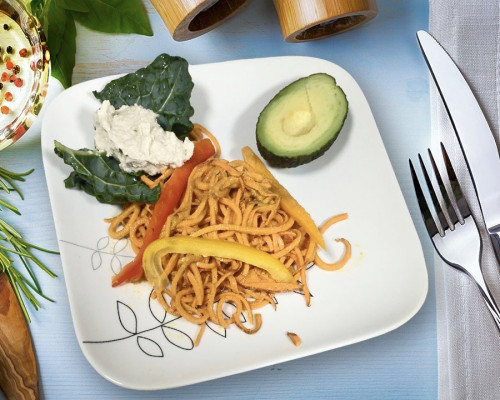 Raw Cheesy Spiralized Sweet Potatoes
Whether you are a raw foodist or you choose to eat everything under the sun, do not miss out on this incredible raw food recipe. It is simple to make, and you are sure to impress your most difficult guests. This delicious treat uses cashews, sunflower seeds, and nutritional yeast to create a rather tasty cheese replacement.
Ingredients
2 good size sweet potatoes or yams

3 ounces Olive Oil

1 ounce Bragg's Liquid Aminos

¼ to ½ cup nutritional yeast (cheesy flavor)

2-3 Kale leaves

½ red, orange or yellow bell pepper

1 avocado

 

Cashew Cheese Sauce Ingredients

½ cup Nature's Eats Raw Cashews

½ cup raw sunflower seeds

½ lemon

3 pinches sea salt

4 garlic cloves

Water
Instructions
Place sweet potatoes or yams through a spiralizer or a mandolin slicer (for thin slices)

Add oil, yeast, and finally the Bragg's so you can adjust your flavor and saltiness.

Stir it all together a lot, feel free to even use your hands and squish everything together. You can use plastic gloves if you don't want to place your hands in the food.

Chop us kale, bell peppers and avocados and then place as a topping to mix with dish and cashew cheese sauce. Directions for Cashew Cheese Sauce

Place all sauce ingredients in a high powered blender like a Vitamix machine.

Add enough water to cover the cashews and blend until completely creamy.

Adding the garlic last so you can adjust to your liking.

Add more water if sauce is to thick.