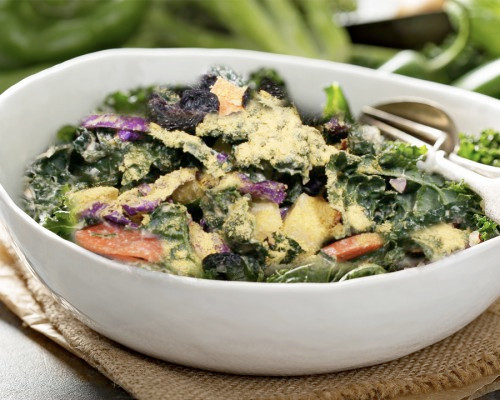 Rainbow Kale Salad
Whether you are looking for great salads to make for dinner or healthy diet foods to help you lose weight quickly this kale salad recipe is perfect. The thing that makes a salad delicious is not just the salad ingredients, but also the dressing you put on top of the salad. So when you are eating a kale salad, the recipe for kale salad dressing is equally important and this combination will support you in accomplishing your weight loss goals.
Ingredients
1 head of dinosaur kale

1 carrot, thinly sliced

1 bell pepper (red, orange or yellow)

1 tomato, diced

1 cup red cabbage, sliced

1 cucumber, diced

¼ cup jicama, diced

¼ cup Nature's Eats Raisins

 

Optional

¼ cup Nature's Eats Cranberry Quinoa Wild Rice Pilaf
Instructions
Clean the kale thoroughly, remove the stems, and then put in a salad spinner to dry or lay the leaves out on a towel until dry.

Dice and slice the veggies.

Throw all of the ingredients into a bowl and toss.

Recommended dressing: Red Pepper Creamy Salad Dressing

Pour dressing over salad and toss. With this salad and the dinosaur kale, it will store well for 1-2 days in the refrigerator.