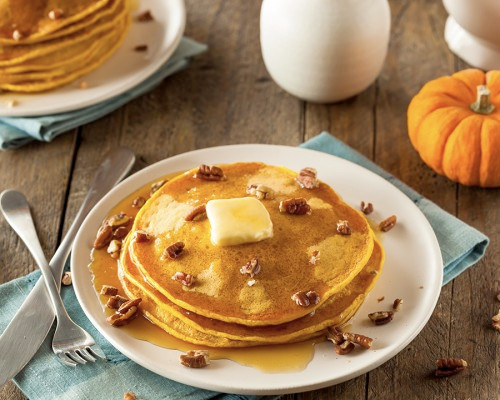 Pumpkin Holiday Pancakes
The best holiday breakfast ideas often include pumpkin as a featured flavor. A good holiday recipe is also one that comes with options so you can choose the ingredients you want to use when preparing your holiday menu. If you're looking for healthy pancake recipes to include on your holiday menu, these pumpkin pancakes can be made with gluten-free flour.
Ingredients
3 cups flour or gluten free flour

1 teaspoon salt

2 tablespoons baking powder

2 tablespoons brown sugar or coconut sugar

1 can (16 ounce) pumpkin puree

2 eggs

1 teaspoon vanilla

2 teaspoons pumpkin pie spice

¼ teaspoon ground ginger

½ teaspoon cinnamon

¼ teaspoon ground cloves

Nature's Eats Pecans, chopped or Nature's Eats Pumpkin Seeds

½ cup heavy cream or full-fat coconut cream

Butter or coconut oil
Instructions
In a large bowl combine flour, salt, baking powder, and sugar, then set aside.

In another bowl whisk together the pumpkin puree, eggs, vanilla, spices, and cream until well combined. Stir in Nature's Eats Chopped Pecans or Nature's Eats Pumpkin Seeds.

Fold wet mixture into dry mixture, stirring until combined. If you need extra moisture add a little more cream or water. The batter should be fluid enough to be poured.

Melt butter or coconut oil on medium heat on griddle or skillet. Drop 4 tablespoons of batter for each pancake. Allow to cook for about 3 minutes per side.

Pancakes should be golden brown. Serve with coconut oil or butter and maple syrup, if desired.