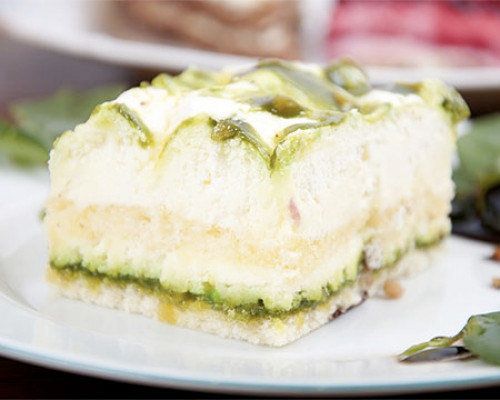 Pistachio White Chocolate Cheesecake
Smooth cheesecake punctuated with nutty pistachio for a nice kick.
Ingredients
Crust

1¼ cups bordeaux cookies

1⁄3 cup granulated sugar

¼ cup unsalted butter, melted

½ cup Nature's EatsShelled Pistachios, chopped

½ teaspoon Nature's Eats Almond Extract

 

Filling

3-8 ounce packages cream cheese, room temperature

¾ cup granulated sugar

4 large eggs 6 ounces white chocolate, melted

1 cup Nature's Eats Shelled Pistachios, chopped
Instructions
Preheat oven to 350°F.

Combine all crust ingredients in a small bowl and mix well. Press firmly in bottom and 1 inch up sides of the 9-inch springform pan. Bake for 10 minutes at 350°F Remove and allow to cool.

Wrap outside bottom and sides of pan with heavy-duty aluminum foil. Reduce oven temperature to 325°F.

In a large bowl, beat cream cheese until smooth. Add sugar. Beat until mixture is very soft. Add eggs, one at a time, beating until combined. Add white chocolate. Beat until combined. Do not over-beat*. Reserve 2 tablespoons Nature's Eats Shelled Pistachios. Stir in remaining Nature's Eats Shelled Pistachios. Pour mixture into crust and sprinkle remaining pistachios on top.

Place pan in a larger pan such as a roasting pan. Pour boiling water into larger pan until ½ inch deep. Place in oven and bake 1½ hours. Refrigerate 4 hours or overnight. When ready to serve, release sides of springform pan, and transfer cheesecake to a serving plate. Cut into wedges.