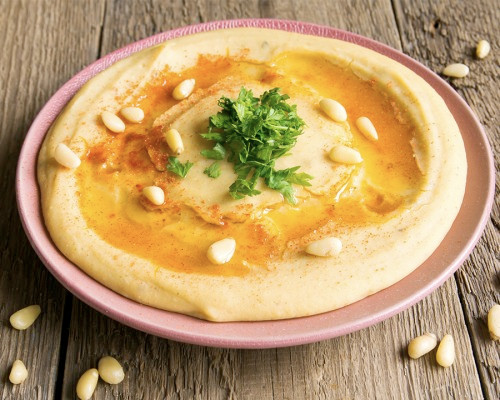 Pine Nut Hummus
When making homemade hummus recipes, you can get creative by using different types of bases and flavorings. This pine nut hummus recipe is a simple and easy hummus recipe. The only thing you really add is pine nuts. Garnishing it with some parsley and a few pine nuts gives it the final touch.
Ingredients
1 (15 ounce) can chick peas

Juice of one lemon

1 garlic clove

½ tsp salt

¼ cup tahini

2 tbs olive oil

¼ cup Nature's Eats Pine Nuts
Instructions
Place all ingredients except half the Nature's Eats Pine Nuts in a high powered blender like a Vitamix machine.

Blend together until nice and creamy. Add extra salt and pepper to taste.

Garnish the top with a little olive oil and handful of pine nuts.

Serve with your favorite vegetables, cracker, bread, or use as a sandwich spread.