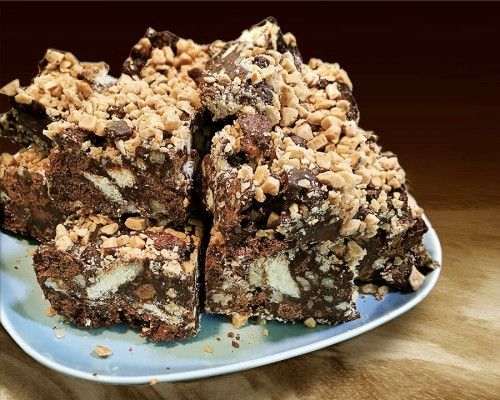 Pecan Praline Brownies
With a Southern flair, these brownies give any sweet tooth a run for its money.
Ingredients
1½ sleeve chocolate graham crackers

36 vanilla wafers

1 cup jarred butterscotch

12 ounces melted bitter semisweet chocolate

½ cup Natures Eats Pecan Pieces

½ cup toffee bits
Instructions
Line the bottom of an 8 inch square baking pan or baking sheet with foil or parchment paper and smoother with butter.

Place chocolate in a heatproof bowl. Place bowl in a medium saucepot with a couple of inches of water and bring 2-3 inches of water to simmer. Place the bowl on top and gently stir with a spoon or spatula until everything is completely smooth and melted.

Crush vanilla wafers and graham crackers in a food processor.

Chop ½ cup Natures Eats Pecans or Natures Eats Pecan Pieces and add to food processor.

Add the jarred butterscotch and melted bittersweet chocolate and pulse until smooth.

Press into square pan and then add ½ cup toffee bits on top.

Put baking sheet or pan aside until cooled to room temperature and then plan it in the refrigerator for 2-3. hours.

Once fully set break cut into brownie pieces and place in an air tight container.