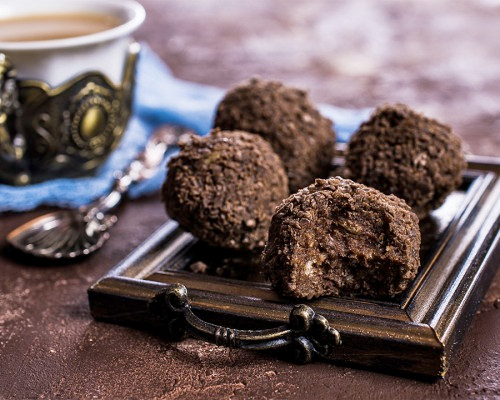 Paleo Brownie Bites
Not all sugar free desserts are made equally, and when it comes to following a paleo diet, finding sugar free desserts is crucial, especially sugar free desserts that taste good and are also low in carbs. We use almond flour and stevia as two of our key ingredients, making these Paleo Brownie Bites gluten-free and sugar-free, and we believe that you will love them. The almond flour and egg also ensure that these Paleo Brownie Bites have protein, good healthy fats, and are low in carbohydrates.
Ingredients
¼ cup melted coconut oil

1 teaspoon Nature's Eats Vanilla Extract

1 egg

2⁄3 Nature's Eats Almond Flour

3 tablespoons cacao powder

¼ teaspoon salt

1⁄8 teaspoon baking soda

1⁄3 teaspoon Stevia drops
Instructions
Preheat oven to 350°F

Line an 8x4 inch loaf pan or a muffin pan with oil.

Mix coconut oil, eggs, stevia, and vanilla in a bowl.

Stir in the dry ingredients.

Pour into the pan and bake for 18-25 minutes.