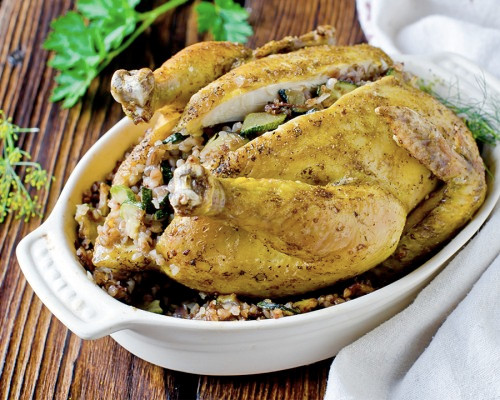 Nutty Turkey Roll
Whether for Thanksgiving Day or any other day, try turkey with a delicious nutty flavor with a savory, berry and ginger spice. Makes a great holiday turkey.
Ingredients
½ turkey breast

¼ cup minced sage, thyme, and rosemary, divided

2 teaspoons salt

1 teaspoon pepper

2-3 garlic cloves, minced

6 tablespoons white wine, divided

2 tablespoons olive oil

½ cup each of Nature's Eats Dried Apricots, Nature's Eats Dried Cranberries, and Nature's Eats Crystalized Ginger, soaked in water

½ cup brown rice, wild rice or quinoa

1 cup chicken broth or stock

¼ cup condensed mushroom soup

1 cup spinach, chopped

¼ cup mushrooms, chopped

¼ cup Nature's Eats Slivered Almonds, Nature's Eats Pumpkin Seeds, and Nature's Eats Pine Nuts
Instructions
Preheat oven to 400°F. Lay turkey breast flat on a cutting board and cover with 1⁄8 cup herbs, salt, pepper, and garlic. Add 3 tablespoons white wine and 1 tablespoon olive oil. Place plastic wrap on top and then use a mallet to pound the breast to a uniform thickness. Cut into two pieces for two turkey rolls.

Soak dried fruits for at least 20 minutes in water. Strain them and save the water. Coarsely chop the fruit, then place to the side.

Cook the rice or quinoa according to package directions, substituting chicken broth for water. After rice is finished cooking add spinach, mushrooms, 1⁄8 cup herbs, Nature's Eats Slivered Almonds, Nature's Eats Pumpkin Seeds, and Nature's Eats Pine Nuts, Add a little chicken broth and ½ cup of the liquid from the soaked fruits and ½ condensed mushroom soup.

Place the rice-vegetable mixture on top of turkey and roll the turkey, using kitchen string to hold it together. Pour over the top the remaining chicken broth, water from soaked fruits, olive oil, white wine and condensed mushroom soup.

Place the turkey roll on a large piece of foil or parchment paper and pinch one side of the tent closed and the other open for ventilation so that your turkey roll will roast properly. You can add extra stuffing onto the sides of the roll.

Place in oven and cook for 45 minutes. Then turn the oven to broil, uncover the top portion of the foil and broil for 5 minutes until top is golden brown.

Remove from oven and close up parchment paper or foil to help keep in warmth and juices until you are ready to serve.