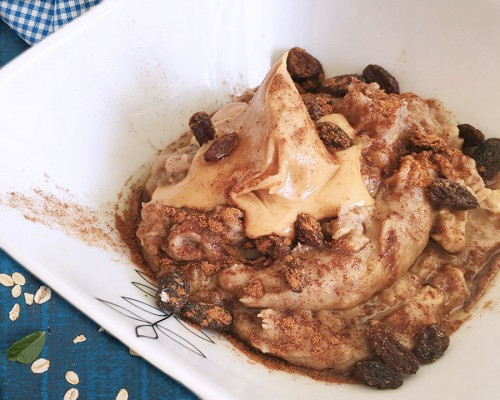 Nutty Banana Oatmeal
If you have ever enjoyed a peanut butter and banana sandwich, you can just imagine how tasty you will find this Peanut Butter Banana Oatmeal.
Ingredients
1-2 very ripe bananas peeled and cut into pieces

1 teaspoon coconut oil

½ tablespoon natural peanut butter

½ cup rolled oats

1 teaspoon chia seeds

1 cup almond or soy milk

1 teaspoon cinnamon

1 pinch of sea salt

1 teaspoon vanilla extract

 

Optional: ¼ cup maple syrup

Handful of Nature's Eats Seedless Raisins or favorite dried fruit
Instructions
In a medium saucepan, cook the banana and the coconut oil on medium heat, stirring frequently for approximately 5 minutes.

Stir in peanut butter, then add the oats, chia, milk, cinnamon, and a pinch of salt. Whisk well until combined.

Bring to a low boil and then reduce to a simmer, stirring often for 8-10 minutes. Remove from heat and stir in vanilla.

Scoop into a bowl and then add toppings like peanut butter, Nature's Eats Raisins, cinnamon and/or maple syrup. You don't need much peanut butter as it is already in the oatmeal itself.

From the first bite, you will be pleasantly surprised by the density of this perfect oatmeal recipe. It tastes almost exactly like biting into a peanut butter and banana sandwich, with oatmeal in lieu of bread. The sweet flavors of the banana, Nature's Eats Raisins and maple syrup combined with the consistency of the peanut butter and cooked oats make this the perfect start to any day.