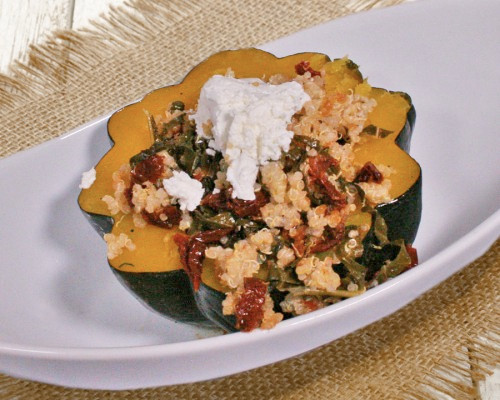 Mediterranean Stuffed Acorn Squash
Whether you are looking for more healthy home meals or light and tasty recipes, this Mediterranean Stuffed Acorn Squash is the perfect dish. Except for the goat cheese, the ingredients are entirely whole foods. The recipe is full of nutrition and is one of those delicious recipes for health. Healthy eating at home can be easily achieved. First, gather a few recipes that show you how to make healthy home meals. Next, take the time to make prepared healthy meals.
Ingredients
2 acorn squash

1½ cups quinoa

2 tablespoons plus 1 tablespoon butter or coconut oil, divided

½ cup Nature's Eats Sun Dried Tomatoes, chopped

¼ cup dinosaur kale

¼ cup spinach

¼ cup goat cheese

Salt and pepper
Instructions
Preheat oven to 375° F.

Cut each acorn squash in half and scoop the seeds out. Spread oil or butter on each half, then place upside down in a little water on a baking tray. Put squash in the oven for 15-20 minutes, or until tender.

Cook quinoa in a rice cooker or on the stovetop, using 2 parts water to 1 part quinoa.

In a skillet sauté sun-dried tomatoes in 1 tablespoon coconut oil or butter. Add kale and spinach and continue to sauté until tender. Mix the sautéed veggies, quinoa, goat cheese, salt, and pepper together.

To serve, scoop quinoa/veggie mixture into the center of the acorn squash halves.