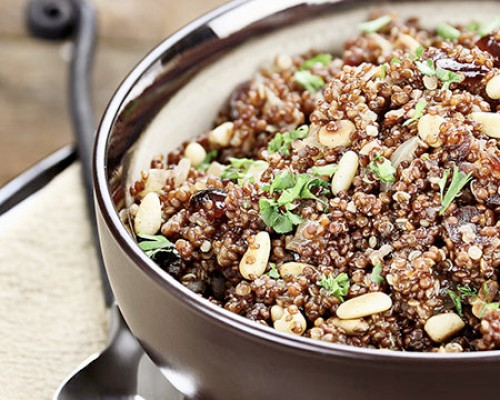 Mediterranean Salad
Say Opa! to this zesty salad full of nutrients your body will certainly appreciate.
Ingredients
2 cups water or chicken broth

1 cup red quinoa & barley mixture

1 large red onion, diced

½ cup chopped kalamata olives

½ cup crumbled feta cheese

¼ cup fresh parsley

½ tsp. salt

⅔ cup lemon juice

1 tablespoon balsamic vinegar

¼ cup olive oil

1 large bell pepper, yellow or red, chopped

½ cup Nature's Eats Pine Nuts

½ cup Nature's Eats Dried Cranberries

Optional: ½ cup Red Onion
Instructions
Bring the water or broth, and garlic to a boil in a saucepan. Stir in the quinoa, reduce heat to low, cover, and simmer until the quinoa is tender and the water has been absorbed, about 15 to 20 minutes. Put the quinoa into a large bowl.

Gently stir the Nature's Eats Pine Nuts, Nature's Eats Dried Cranberries, onion, bell pepper, olives, feta cheese, parsley, and salt into the quinoa. Drizzle with the lemon juice, balsamic vinegar, and olive oil. Stir until evenly mixed.

Serve warm or refrigerate and serve cold. Can be served over spinach or mixed greens for added nutrition.  Serve warm or cold. Makes 4 cups.