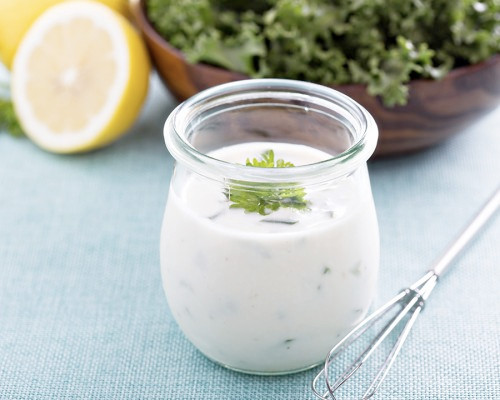 Macadamia Nut Ranch Dressing
Our Healthy Ranch Dressing is the best ranch dip for veggies and is excellent for dark leafy greens or any of your favorite salads. The macadamia nut base makes any salad complete with its high levels of healthy monounsaturated fats and tons of flavor.
Ingredients
1 cup Nature's Eats Macadamia Nuts

1 teaspoon garlic powder

¼ teaspoon onion powder

1 teaspoon salt

1 tablespoon lemon juice

1 teaspoon apple cider vinegar

1 cup Nature's Eats Homemade Cashew Milk

½ teaspoon pepper

1 tablespoon chives or green onions, chopped

2 tablespoons parsley (optional)
Instructions
Place all ingredients (except chives or green onions and optional parsley) in a high-powered blender or Vitamix machine. Start on low and gradually bring it to high speed until ingredients are completely blended. If you like a thinner consistency add more Nature's Eats Homemade Cashew Milk.

Add chopped chives and optional parsley and mix until smooth.

Serve immediately or store in an air tight container in the refrigerator.