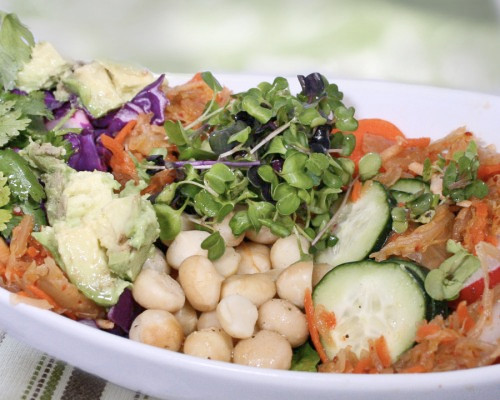 Macadamia Nut Power Salad
Macadamia nuts are amazing to put in different healthy salad recipes. When you're looking for healthy salads to eat, include healthy fats along with several vegetables and greens. Use vegetables, fruits, and nuts that mimic the colors of the rainbow to get the best nutritional content. A good way to make different healthy salad recipes filling is to include nuts, such as macadamia nuts, and avocados.
Ingredients
2-3 large radishes

½ cup purple cabbage

1 large cucumber

2 small carrots

1 avocado

¼ cup cilantro

2 cups baby greens of choice

¼ cup kimchi

1⁄3 cup Nature's Eats Macadamia Nuts

 

Salad Dressing Ingredients

1⁄3 cup oil

¼ cup apple cider vinegar

1 teaspoon onion powder

1 teaspoon garlic powder

1½ teaspoon Dijon mustard

Salt and pepper to taste

1 lemon, juiced

½ teaspoon stevia or 1 teaspoon honey or maple syrup
Instructions
Slice radishes, cucumber, carrots, and cabbage.

Dice avocado. Remove cilantro leaves from stems.

Place the greens in the bottom of a large salad bowl, then creatively place sliced vegetables, avocados, cilantro, kimchi and Nature's Eats Macadamia Nuts so that your salad looks as beautiful as a rainbow.

Keep the dressing simple either by using the one recommended above or a simple balsamic vinaigrette.