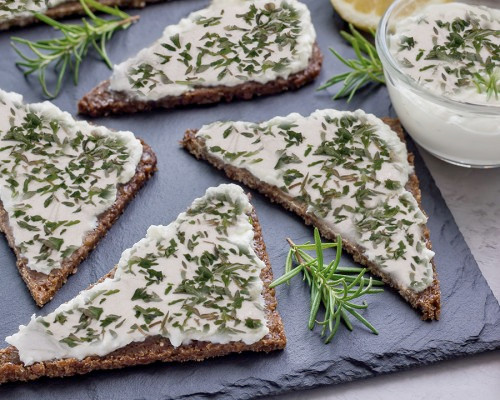 Macadamia Nut Cheese Spread
Macadamia Nut Cheese is a healthy snack to eat on the go. If you have cheese or lactose intolerance, you can enjoy this macadamia nut cheese on your favorite cracker or veggie. Macadamia nuts are often used for dairy replacement, so this snack will easily make it onto the dairy-free snack list.
Ingredients
2 cups soaked Nature's Eats Macadamia Nuts

¾ cups water

Juice of 1 lemon

4 tablespoons nutritional yeast

1 - 2 garlic cloves

Salt and pepper to taste

1 teaspoon onion powder

1 tablespoon apple cider vinegar

4-6 tablespoons fresh herbs (thyme, parsley, chives, rosemary, or thyme)
Instructions
In a deep bowl, soak Nature's Eats Macadamia Nuts in water for 2 to 4 hours.

In a high-speed blender such as a Vitamix machine add all the ingredients except for the herbs.

Start blender on low and gradually blend the mixture on high until the cheese is smooth and creamy, resembling ricotta cheese.

Place the cheese into a serving bowl and mix in fresh herbs leaving some for garnishment on top.

Serve with your favorite crackers, toast, bagels, or fresh veggies.

Store in an airtight container for 4 to 5 days.