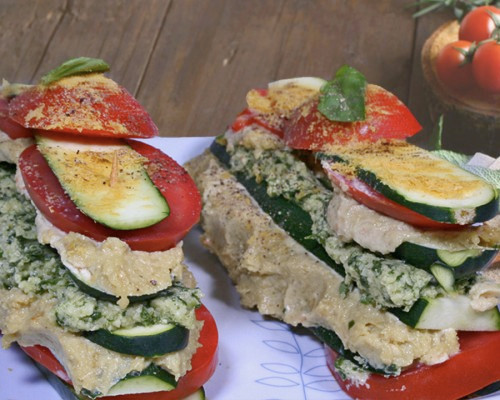 Lazunnia: Raw Lasagna
Italian dishes, especially lasagna, are well-loved but are not really known to be the healthiest meal options. Well, we have created a recipe for raw lasagna, and we highly encourage you to make this garden-fresh Italian dish that is really healthy. It is prepared rather quickly for an easy lunch, dinner, or snack. It is made with garden-fresh vegetables, cashews, and almond flour. Raw lasagna leaves out the dairy, the noodles, and the long baking process, but it does include garden fresh raw vegetables that your body and your taste buds will love.
Ingredients
2 small-medium zucchini

2 tomatoes, sliced

Dried basil to top

Nutritional yeast to top

 

Cashew Cheese Ingredients

½ cup Nature's Eats Raw Cashews

1¼ tablespoon lemon juice

1 tablespoon nutritional yeast

1-3 tablespoons water

1 cloves of garlic

Pinch of salt

 

Basil Pesto Ingredients

1 handful of basil, approximately ½-¾ cup

1⁄3 cup Nature's Eats Almonds

2 tablespoons lemon juice

2 tablespoons olive oil
Instructions
Prepare pesto by blending basil and Nature's Eats Almonds in a blender, slowly adding lemon juice and olive oil. Blend until it becomes a rich, hearty texture.

Thinly slice the zucchini lengthwise. I usually cut them into five slices.

Start with a layer of zucchini and place tomato slices and basil on top. Layer with another slice of zucchini then spread generously with cashew cheese. Repeat until desired height/amount of lasagna is reached.

Top with dried basil and nutritional yeast. Place lasagna on a plate to serve.

You can either make two large lasagna's or make four medium servings. It just depends on how thick you want each lasagna to be. Serve like a stacked sandwich.