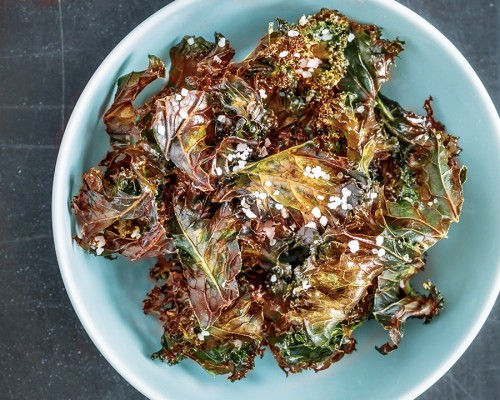 Italian Sun-Dried Tomato Kale Chips
There are so many reasons why you may want to eat kale chips homemade. The nutritional value of kale has been shown to be amazing and so the more kale we can get into our diets the better. Italian kale chips give the kale a savory flavoring, and the sun dried tomato Italian cheese coating will surely leave you satisfied. These are also great kale chips for kids because they have a cheese flavor and resemble regular chips.
Ingredients
4-5 cups curly kale

2 cups Nature's Eats Raw Sunflower Seeds

¼ cup nutritional yeast

¼ cup Nature's Eats Sun Dried Tomatoes

¼ cup fresh basil

½-1 cup olive oil

¼ cup water (if needed)

1 teaspoon salt

2 lemons, juiced

3 garlic cloves

1 teaspoon Italian Seasoning
Instructions
Clean the kale thoroughly. Remove the curly kale from the stems, and discard stems. Place kale in a large bowl and set aside.

Place all remaining ingredients in a high-powered blender such as a Vitamix machine. Start on low speed, gradually working up to the highest speed until ingredients are well blended. Add extra water, lemon, oil, or salt as needed until you achieve the flavor and texture you desire.

Using gloves, pour the mixture on top of kale in a large bowl. Massage the mixture into the kale to fully cover.

If using an oven, preheat the oven at 250°F and place kale on baking sheets in oven for approximately 30 minutes. Check the kale chips often until they are crispy.

If using a dehydrator, place the prepared kale on each sheet of Teflex and place into the dehydrator. Leave at 115°F for approximately 8 hours or until kale is completely crisp.