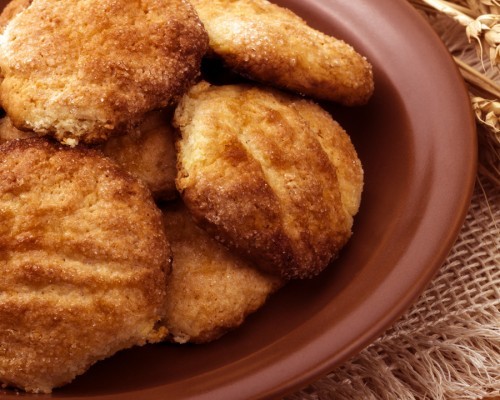 Honey Gluten-Free Biscuits
Use these flaky, golden biscuits as a gluten-free canvas for gravy, butter and jam, or breakfast sandwiches. Made with coconut flour and almond flour.
Ingredients
1 cup Nature's Eats Almond Flour

¼ cup Nature's Eats Coconut Flour

½ teaspoons baking soda

¼ teaspoon salt

¼ cup honey

¼ cup softened coconut oil

2 eggs

2 tablespoons Homemade Vanilla Almond Milk or Dairy Free Cashew Cream
Instructions
Preheat the oven to 350°F.

In a medium bowl whisk together Nature's Eats Almond Flour, coconut flour, baking soda, and salt.

In a separate bowl mix the honey, coconut oil, eggs, and almond milk together, then add it to the dry ingredients. Use a spatula to mix ingredients to form a dough.

Form dough into 4-5 big balls or 6-8 smaller ones. Flatten each one and lay it on a baking sheet covered with parchment paper, or place in a cellophane biscuit pan.

Bake for 20 minutes or until tops are slightly golden brown. Allow to cool for 5-8 minutes, then remove and enjoy. Store leftovers in an airtight container in the refrigerator.