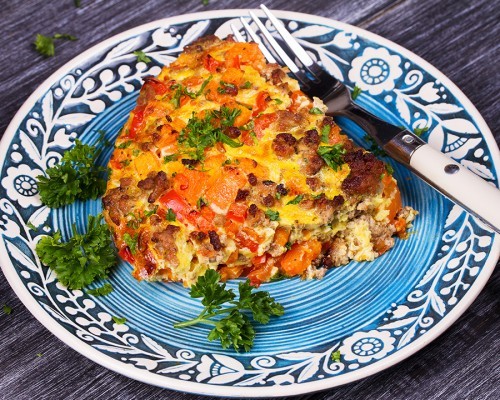 Homemade Vegetable Lasagna
The best vegetarian lasagna ever is the one that uses vegetables for noodles, also making it a gluten-free lasagna. Gluten-free lasagna is easy to make when you use eggplant and zucchini to replace the noodles. Add your favorite veggies to the recipe in the same way we added sun-dried tomatoes, basil, and mushrooms.
Ingredients
2-4 garlic cloves, minced

½ cup onion, chopped

½ cup Nature's Eats Sun Dried Tomatoes

1 cup mushrooms, chopped

2 tablespoons olive oil

1 jar (16-18 ounce) marinara sauce

Salt and pepper to taste

1 tablespoon Italian seasoning

1⁄3 cup basil, chopped

2 cups mozzarella cheese, grated

2 cups parmesan cheese

2 cups ricotta cheese

 

Noodle Ingredients

2 zucchini

1 eggplant

1 tomato, sliced thinly

1 bunch fresh basil
Instructions
Pre-heat oven to 350°F.

Sauté garlic, onions, Nature's Eats Sun-Dried Tomatoes and mushrooms in the olive oil on low to medium heat until soft.

Add marinara sauce, seasonings, and basil.

Cut the zucchini and eggplant horizontally into ¼ inch slices.

Sweat the zucchini and eggplant by salting and then placing on cookie sheet. Put in the oven at 350°F for 15-20 minutes.

To assemble, pour a thin layer of sauce at the bottom of an 8 x 8 inch nonstick pan. Next, layer eggplant slices, ricotta mixed with mozzarella and parmesan, a layer of zucchini, and a layer of sauce. Repeat until dish is full.

On the top add a layer of sauce, then sprinkle with parmesan, mozzarella cheese, sliced tomatoes, and fresh basil leaves.

Place in the oven and bake at 375°F for up to one hour. Remove from oven and let cool for 15 minutes before cutting.