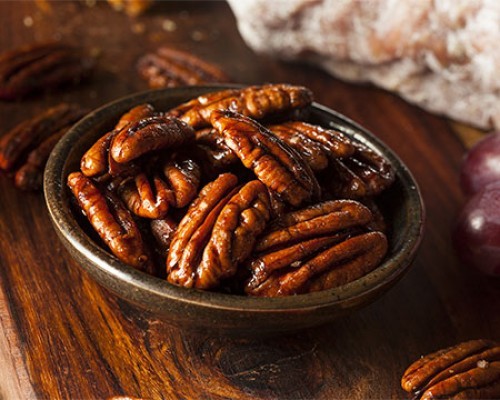 Holiday Pecans
What's a holiday party without a bowl of nuts?
Ingredients
1 egg white

1 teaspoon water

5 cups Nature's Eats Pecan Halves

½ cup sugar

½ teaspoon ground cinnamon

¼ teaspoon salt
Instructions
In a mixing bowl, with an electric hand-held mixer on high speed, beat egg white and water until foamy. Stir Nature's Eats Pecan Halves into egg white mixture until well coated.

Combine sugar, cinnamon, and salt; sprinkle over pecans, stirring once again to coat thoroughly. Spread pecans in a single layer on a lightly greased baking sheet.

Bake at 225°F for 1 hour, stirring occasionally. Leave on baking sheet until completely cooled. Store in an airtight container. Makes 5 cups.