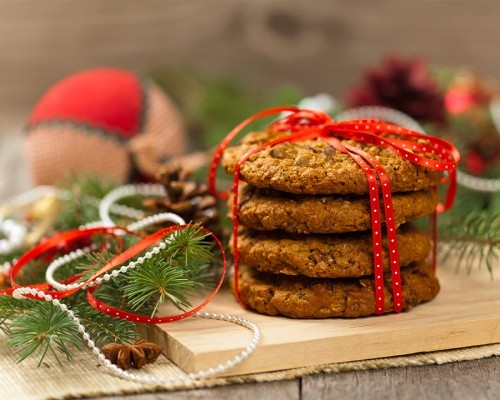 Holiday Berry Oatmeal Cookies
Berry Oatmeal Cookies are the perfect Christmas holiday cookies. They can be used as holiday cookie gifts or simply cookie gifts any time of year. These amazing oatmeal cookies will leave everyone happy, and they have a unique twist on a traditional oatmeal cookie recipe. There are so many different cookie recipes for the holidays, but these Berry Oatmeal Cookies are easy to make and are simply delicious. They are truly amazing oatmeal cookies, and whether you decide to make them with cranberries or dried blueberries the berry flavor and color helps bring in the holiday cheer. You can use them for cookie gifts on a Christmas plate, in a tin, or as part of a gift basket.
Ingredients
2 cups old fashioned oats or gluten free oats

1 cup Nature's Eats Almond Flour

1 teaspoon cinnamon

½ teaspoon baking soda

½ teaspoon salt

1 stick butter

½ cup brown sugar

1 egg

3 tablespoons filtered water

1 teaspoon vanilla

1 cup Nature's Eats Dried Cranberries or Blueberries
Instructions
Pre-heat oven to 350°F.

In a small bowl whisk together oats, Nature's Eats Almond Flour, cinnamon, baking soda, and salt.

In another bowl cream together butter and brown sugar until light and fluffy using a mixer or Vitamix machine. Add the egg, water, and vanilla and blend until fully combined.

Slowly add flour mixture until it is all combined. Stir in the Nature's Eats Dried Cranberries or blueberries until well combined.

Use 2 tablespoons of mixture for each cookie and place on parchment-lined baking sheet. Bake for 20-25 minutes or until golden brown.

Allow to cool and serve.