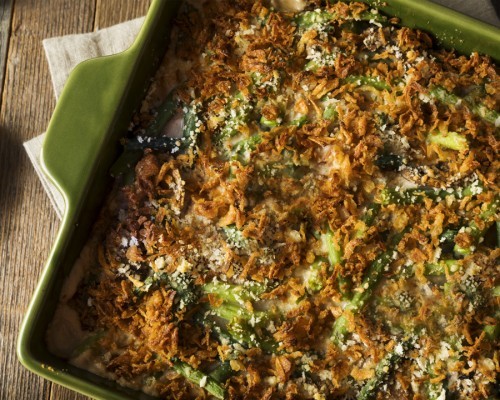 Green Bean Dairy-Free Casserole
A traditional recipe for green bean casserole from scratch usually includes dairy and gluten, but this Green Bean Dairy-Free Casserole is not only dairy-free, but it is also gluten-free. A recipe for green bean casserole from scratch that uses a milk substitute for baking is always something to get excited about. It is perfect for a dairy elimination diet and is a gluten-free food that you can thoroughly enjoy. The nuts give it that familiar texture you find with many green bean casserole recipes. Choose your favorite nut flavor suggested in the recipe to keep it a gluten-free food.
Ingredients
1 teaspoon olive oil

1 yellow onion, chopped

1 pound frozen green beans

1 can garbanzo beans, drained and rinsed

1 - 2 teaspoons salt, divided

1¼ cups water

2 garlic cloves

1 teaspoon fresh rosemary, minced

1 teaspoon balsamic vinegar

¼ - ½ teaspoon ground black pepper

Topping Ingredients:

¼ teaspoon salt

Nature's Eats Hazelnuts, Nature's Eats Brazil Nuts or Nature's Eats Macadamia Nuts
Instructions
Pre-heat the oven to 350°F.

Heat olive oil in a medium pan or Dutch oven. Sautee the onion until it begins to soften, approximately 5 minutes.

In the pan or Dutch oven, add frozen green beans and ½ of the salt, then stir well with onions. Cover and cook until vegetables are heated through, approximately 8-10 minutes.

In a Vitamix machine or blender combine garbanzo beans, water, remaining salt, garlic, rosemary, balsamic, and black pepper. Blend until completely smooth, then set aside.

In a dry container for the Vitamix machine or food processor coarsely grind the nuts and salt. You want texture and crunch rather than turning it into a nut flour.

Roast the nuts by placing them in the oven at 400°F for approximately 5 minutes until golden brown.

Once vegetables are completely rendered, keep them in Dutch oven or transfer into an 8x8 pan. Pour sauce on top and stir well. Make any seasoning adjustments and then top with crushed nuts. Place casserole in the oven at 350°F until vegetables are piping hot and topping becomes lightly golden brown, about 30 minutes.

Allow cooling for 10 minutes before serving. Optional: Add a rosemary sprig on top for presentation.