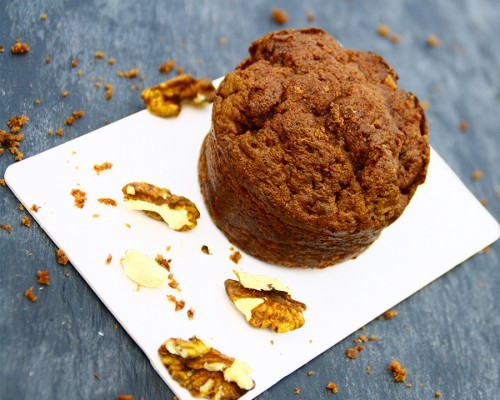 Grain-Free Spice Muffins
If you are seeking a healthy breakfast on the go, these Spice Grain-Free muffins could be right up your alley. They are not only grain-free, but they are perfect if you are looking for some nutritious breakfast ideas. These muffins will also work when you need gluten-free snacks for kids or adults. And if you are going to snack, why not make it healthy snacking?
Ingredients
1 cup almond butter

½ cup unsweetened apple sauce

2 flax eggs or 2 eggs (If using flax eggs, muffins will sink in the middle)

½ teaspoon baking soda

½ teaspoon baking powder

¼ teaspoon fine sea salt

2 teaspoons ground cinnamon

½ teaspoons ground ginger

¼ teaspoon ground nutmeg

1⁄8 clove powder

½ cup honey

¼ cup Nature's Eats Raisins

 

Optional: ¼ cup chia seeds, ¼ cup hemp seeds, and Nature's Eats Ground Walnuts or black walnuts to top muffins
Instructions
Preheat oven to 350°F, then line a standard muffin tin with 12 paper cups.

In a medium bowl, mix together all ingredients, except for Nature's Eats Raisins and Nature's Eats Walnuts. Blend until batter is smooth.

Add raisins and any optional ingredients you choose and combine. Use a ¼ cup measuring cup to distribute batter evenly between all 12 muffin cups. Sprinkle the top with Nature's Eats Chopped Walnuts or black walnuts.

Bake for about 15 minutes or until muffins are slightly golden brown and firm in the middle. Allow the muffins to cool for 15 minutes.

To store, place muffins in an airtight container on the counter for a few days, or in the refrigerator for a week or two. You can also freeze them to save for a later date.