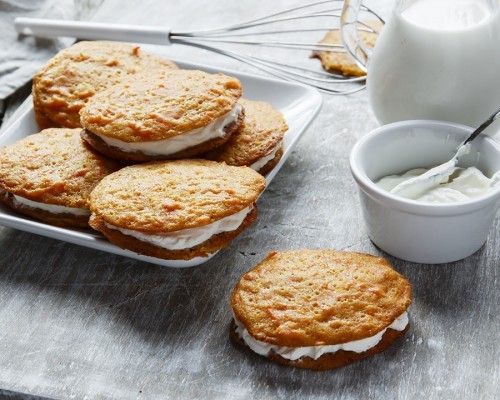 Gluten-Free Cream Cookie Sandwich
Cream puffs are an old-time favorite dessert in many parts of the world. They are delicious treats that have been created in different cultures: American, French, and Middle Eastern. Each culture has its own variety of ingredients and preparation. These Almond Flour Cream Puff cookies are made with gluten-free ingredients.
Ingredients
Outer Dough Ingredients

1 cup water

1 stick butter, melted

¼ teaspoon salt

1 teaspoon vanilla

¾ cup Nature's Eats Almond Flour

¼ cup tapioca flour

2 teaspoons guar gum

4 eggs

 

Filling Ingredients

2 cups heavy whipping cream

½ cup powdered sugar

2 teaspoons Nature's Eats vanilla extract
Instructions
Preheat oven to 450°.F

In a saucepan on the stove mix water, melted butter, salt, and vanilla and bring to a boil.

Remove from heat and pour into a medium bowl. Next add flours and guar gum, then mix until it becomes a dough.

Let it cool for 5 minutes. Once the dough is cool mix in one egg at a time. When you mix in the first egg, the dough may separate. Keep mixing until dough forms again, and then add in next egg. Repeat until all eggs are in the dough mixture. You want the dough thick enough that it can stand on its own.

Place the dough in a quart size plastic zip lock bag. Cut one corner of the bag to make a tip to squeeze the dough as follows onto a baking sheet lined with parchment paper.

Place little dough dots in each corner of baking sheet to help keep the parchment paper in place. As you squeeze dough out of bag, make a little circle and fill it in, then move on to the next one. You should be able to create 24 puff dough balls (1-2 inch).

Place the baking sheet in the oven and bake for 25-30 minutes. Do not open the oven while they are baking. Once the puff cookies have finished baking, turn the oven off and slightly prop the oven door open to let them breathe for 10 minutes. Then remove from oven to cool.

For the filling use a Vitamix machine or a mixer to whip the heavy whipping cream and powdered sugar on medium for about 1 minute.

Add vanilla, then mix on high until cream thickens. Place in fridge to continue thickening for 30 minutes.

Place one puff on a plate and spoon whipping cream on top. Then place a second puff on top, like a sandwich. You can sprinkle them with powdered sugar if desired.