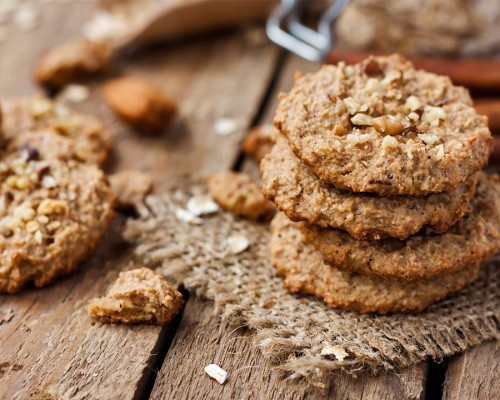 Gluten-Free Black Walnut Cookies
The black walnut has almost the same profile as an English walnut, however, the difference lies within the taste. When eating a black walnut, you may wonder if the walnuts have gone bad due to their scent and taste. But when black walnuts are incorporated into recipes like Grandma's Black Walnut Cookies they instantaneously become delicious.
Ingredients
1 cup brown sugar

½ cup coconut oil

2 large eggs

1 teaspoon vanilla

1½ cups Nature's Eats Almond Flour

1½ cups gluten-free flour

1 teaspoon baking soda

½ teaspoon salt

2 teaspoons cinnamon

1 cup oatmeal

2 cups chopped black walnuts, divided

Nature's Eats Raisins (optional)
Instructions
Cream together in a large bowl brown sugar and coconut oil until light and fluffy. Beat in eggs and vanilla.

In a separate bowl combine flours, baking soda, salt, cinnamon, and oatmeal, then stir into the cream mixture.

Mix in 1 cup black walnuts and Nature's Eats Raisins, if desired. Divide the dough in half, then shape each half into a 15 inch roll.

Roll each piece in remaining chopped nuts, then wrap in plastic wrap. Refrigerate for 1-2 hours or until firm.

Unwrap dough and cut into ¼ inch slices. Place the slices 2 inches apart on greased baking sheets. Bake at 300°F for 12-15 minutes or until lightly brown. Remove to wire cooling racks.