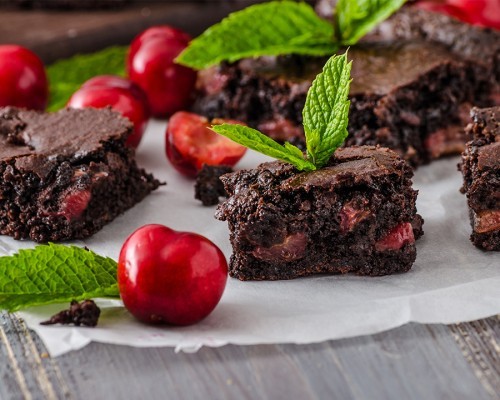 Gluten-Free Black Bean Brownies
Gluten-Free Bean Brownies are one of the best healthy dessert options out there. If you are going for completely vegan, you can even make them with flax seeds (flax eggs). The black beans are full of protein without any compromise in the overall taste. They come out super moist with a creamy middle that will melt in your mouth. We also like to refer to these as skinny brownies, since they are mostly guilt-free and have much fewer calories than standard brownies.
Ingredients
1 (15 ounce) can of black beans, rinsed and drained

2 large flax eggs

3 tablespoons Nature's Eats coconut oil, melted, or olive oil

1 cup cacao powder

¼ teaspoon salt

1 tsp pure vanilla extract

¼ cup organic brown sugar

¼ cup maple syrup

1½ teaspoon baking powder

¼ cup Nature's Eats Dried Cherries (½ for mixture and other ½ for topping)

½ cup chocolate chips (½ for mixture and ½ for topping)

Optional toppings: Nature's Eats Walnuts, Nature's Eats Pecans or other favorite nut
Instructions
Pre-heat the over to 350°F. Grease a 12-cup, standard muffin pan. Make sure that the beans are rinsed and drained.

Prepare your flax eggs by combining the flax seeds and water in a food processor. Pulse a few times and then allow to sit.

Add the remaining ingredients into the food processor except for the Nature's Eats Dried Cherries, chocolate chips and nuts. Puree for approximately 3 minutes, scraping the sides as needed until it is smooth.

If the batter is too thick, add a tablespoon or two of water and pulse again. Consistency should neither be runny or thick as chocolate frosting. Aim for somewhere slightly less thick than a frosting.

Evenly distribute batter into the muffin tins and smooth the tops with your finger.

Add a few chocolate chips on top of each muffin, nuts, and a dried cherry or two.

Bake for approximately 20-26 minutes until the tops become dry and the edges slightly pull away from the muffin sides.

Remove from the oven and allow to cool for 30 minutes before taking them out of the pan. Remove very gently with a fork as they will be tender. The insides should be moist like fudge.

You can store any leftovers in an air tight container in the refrigerator for a few days or freeze them to keep for longer.