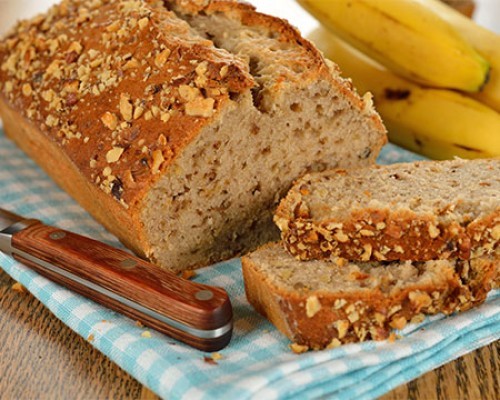 Gluten-Free Banana Bread
Classic banana bread with a gluten-free take.
Ingredients
4 ripe bananas or 1½ cup mashed

4 eggs

½ cup almond or nut butter (check out our nut butter recipes)

½ cup Nature's Eats Chopped Walnuts

½ cup chocolate chips or chunks (optional)

1 tablespoon RAW Organic Agave (optional)

4 tablespoons coconut oil (melted)

1 cup Nature's Eats Almond Flour

½ teaspoon cinnamon

1 teaspoon baking soda

1 teaspoon baking powder

1 teaspoon Nature's Eats Vanilla Extract

pinch sea salt
Instructions
Preheat oven to 350 degrees and grease your pan. In a large bowl or a mixer combine bananas, eggs, coconut oil, vanilla extract, Agave (optional) and nut butter until fully combined.

Add Nature's Eats Almond Flour, cinnamon, baking soda, baking powder and sea salt to the wet ingredients and mix well. Fold in chopped walnuts and chocolate chips (optional). Pour the batter into the greased pan and spread evenly.

Bake for approximately 40 minutes test (if you're using a loaf pan, bake for 50-60 minutes). Place a toothpick into the center. When removed it should come out clean.

Remove from the oven and allow to cool on a wire rack for about 30 minutes. Flip over onto a cooling rack to complete the cooling process.