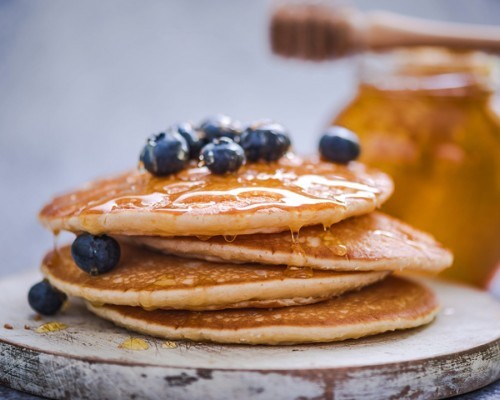 Fluffy Almond Flour Pancakes
Almond flour pancakes are definitely one of those great paleo breakfast ideas on the go. This recipe results in gluten-free fluffy pancakes which can sometimes be hard to achieve when making almond flour pancakes. You may never have considered pancakes as one of those paleo breakfast ideas on the go, but with almond flour pancakes we can keep them paleo-friendly and easy to travel with. These days it is common for people to look for a gluten-free high protein breakfast because it is perfect for a paleo diet. We may seek breakfast foods like eggs, fruits, or oatmeal and typically stay far away from things like scones, bagels, bread, croissants, and definitely pancakes and waffles.
Ingredients
1 cup Nature's Eats Almond Flour

½ cup buckwheat flour

½ teaspoon baking soda

3 eggs

1 tablespoon coconut oil

¼ cup almond milk or coconut milk

1 tablespoon maple syrup or honey

¼ teaspoon apple cider vinegar
Instructions
Preheat pan or griddle over medium heat.

Place all liquid ingredients in a blender, then place all dry ingredients on top. Cover and blend on low to start, then increase to high and continue to blend for one minute. We recommend using a Vitamix machine.

The batter will be very thick like a cake batter. If it is too thick, add another tablespoon of coconut milk to the batter. Be sure to add just one tablespoon at a time, blend, then add more if necessary. The additional coconut milk should not impact the flavor of the pancake, just the thickness.

Grease a pan or griddle with butter or coconut oil.

With a ladle or spoon place a spoonful of batter on the griddle for a silver dollar size pancake, approximately 3 inch in diameter.

Cook for a few minutes until the edges begin to dry out and the bottom of the pancake is golden brown. Keep a close eye on the pancakes because almond flour pancakes can burn easily.

Carefully flip and continue to cook another few minutes until done, being careful to not over brown.

If you want to add fruit to the pancakes, we recommend adding it right after you ladle the pancake mixture onto the griddle for best results. Try blueberries, strawberries, raspberries, or bananas if you'd like. We also recommend using fresh fruit when possible to minimize soggy pancakes.

Serve the pancakes hot off the griddle and add butter, coconut oil, fresh berries, and honey or maple syrup.