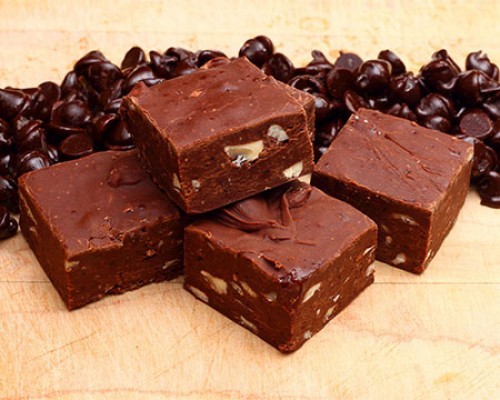 Easy Rich Walnut Fudge
There's no fudging up this nutty variety.
Ingredients
1½ cups Equal sugar

2⁄3 cup evaporated 2% milk

2 tbsp butter

2 cups miniature marshmallows

1½ cups semisweet chocolate chips

1 teaspoon Nature's Eats Vanilla Extract

1 cup Nature's Eats Chopped Walnuts
Instructions
Line an 8 x 8 x 2 inch pan with foil, with 1-inch foil hanging over edges. Combine Equal sugar, evaporated milk, butter, and salt in a medium-sized heavy saucepan. Bring to a rolling boil over medium heat, stirring frequently. Boil and stir for 5 minutes. Remove from heat.

Mix marshmallows, chocolate chips and vanilla with warm milk mixture; stir until completely melted and smooth. Add in Nature's Eats Chopped Walnuts. Pour mixture into prepared pan (if desired, sprinkle walnuts on top).

Chill at least 2 hours or until firm to touch. Lift fudge out of pan with foil and cut into squares. Chill fudge until ready to serve. Place fudge in covered plastic container, using wax paper between layers. Place in refrigerator.