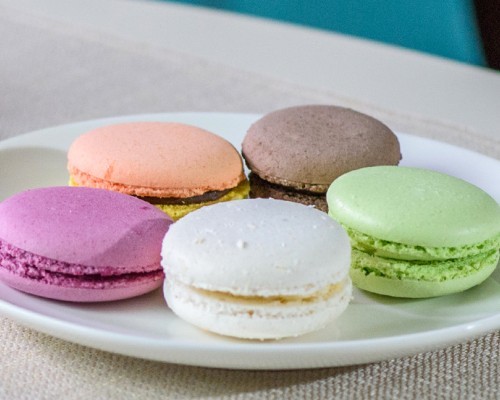 Delightful Classic French Macarons
Almond Flour French Macarons? Mais Oui! These lovely French confections are composed of two almond meringue discs filled with a layer of buttercream or ganache filling giving these delightful cookies an enjoyable crispy/chewy combination. Perfecting the macaron takes a little practice but is worth the delicious, professional-looking results of these sophisticated French treats. Once you master the basic macaron recipe, you can incorporate additional flavors and natural food colorings, such as using fresh raspberry preserves to make a beautiful and festive pink macaron. Creative flavor variations can also be added such as some fresh lemon zest to the batter or filling. These delicate treasures are a heavenly, delicious snack that suits a gluten-free diet and sure to impress!
Ingredients
1½ cups Nature's Eats Blanched Almond Flour

1½ cups powdered sugar

3 egg whites

¼ teaspoon salt

¼ teaspoon cream of tartar

½ cup granulated sugar
Instructions
Combine Nature's Eats Almond Flour and 1 cup of powdered sugar. Sift through a flour sieve for granular consistency and aeration.

Separate eggs, and place egg whites in an extra clean, stainless steel mixing bowl. Ensure there is no egg yolk or residual grease in the bowl. Add the salt and cream of tartar to the egg whites. Beat on medium speed with a mechanical mixer until a meringue is formed – stiff, white peaks. If desired, add any flavor or color extracts at this point.

Combine remaining ½ cup powdered sugar and ⅓ cup granulated sugar. Incorporate this mixture into the meringue a little at a time while beating on a low speed. Stir until mixture appears shiny and smooth.

Fold in the almond flour-sugar mixture into the meringue. Stir by hand to combine until the mixture becomes a cake-like batter.

Line a cookie sheet with parchment paper or non-stick foil (very important!). Place a heaping teaspoon of batter onto lined cookie sheet using a cookie scoop or pastry bag. The batter should spread out slightly when released but retain a round shape.

Place cookie sheet on the counter to air dry for one hour, or until the batter is not shiny or sticky. It should have a dull appearance. Preheat oven to 275°F.

Bake macarons for 25-30 minutes or until firm.

Remove macarons from oven and allow them to cool on the cookie sheet. Separate from the parchment paper or non-stick foil using a spatula.

Top half of the macarons with your favorite flavor of buttercream icing, ganache, or fruit filling and add another macaron to make the sandwich. Enjoy! Yields 1 dozen filled macarons.