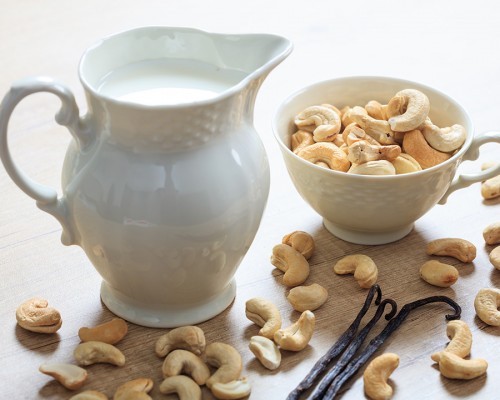 Dairy Free Cashew Cream
Dairy-free cream has become more and more popular over the last five years. Whether you are seeking a half and half cream substitute or just a cream substitute this dairy-free cream is sure to be a hit. You can also use it as a cashew coffee creamer for your morning coffee as well as in various recipes that call for any cream substitute. The great thing about using a half and half cream substitute or cream substitute is if you are lactose intolerant or unable to consume dairy you can use this cream substitute as often as you like.
Ingredients
1 cup Nature's Eats Raw Cashews

1½ cups filtered water
Instructions
Place the Nature's Eats Cashews and water in a high powered blender like a Vitamix machine. Start on low then increase speed to high.

Continue to blend until it is completely liquefied.

You can use the cream as it is using all the fibers from the cashews to maintain thicker creaminess or you can use a nut bag and remove all the fiber from the Nature's Eats Cashews. If you feel like you want a creamier finished product, increase the number of Nature's Eats Cashews or reduce the amount of water.