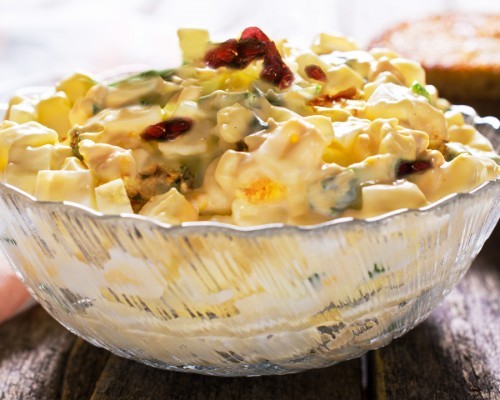 Curried Egg Salad
Some of the best vegetarian foods are not only very easy to make but also very high in protein and overall nutrition. This curried egg salad recipe uses greek yogurt rather than mayonnaise, and the curry brings in a very unique flavor.
Ingredients
6 eggs

¼ cup thinly sliced scallions

¼ cup diced celery pieces

½ diced apple

¼ cup Nature's Eats Dried Cranberries or orange dried cranberries

or Nature's Eats Raisins

¼ cup Nature's Eats Chopped Pecans

½ cup full fat greek yogurt

1 teaspoon curry powder

Salt and Pepper to taste

¼ teaspoon cayenne powder
Instructions
Boil the eggs until well done (approximately 5-7 minutes) and then rinse, cool, and peel. Place eggs in a medium-size bowl.

Add in the rest of the ingredients and use your hands or a masher to mash all the ingredients together until fully blended well. Take a little taste and add more salt and pepper if needed.

Serve curried egg salad in a pita sandwich or as a side dish along with your favorite crackers.