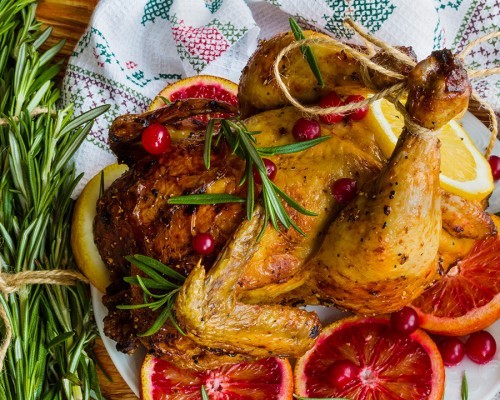 Cranberry Turkey Brine
Are you looking for unique items for the perfect gift baskets? Homemade holiday gifts are the nicest and turkey brine is an excellent idea for gift baskets for any holiday. Holiday Turkey Brine is a creative homemade holiday gift for friends, family members, and co-workers. Turkey brine is a really flavorful way to prepare a turkey. When you are searching for holiday recipe ideas, you'll be sure to find turkey on the holiday dinner menu. Turkey brine is super simple to make and can add great flavor to any holiday dinner menu.
Ingredients
1 cup kosher or culinary salt

¼ cup Nature's Eats Dried Cranberries

1⁄8 cup Nature's Eats Crystalized Ginger

¼ cup dates

4 bay leaves

1 teaspoon cinnamon

1-2 cinnamon sticks, broken into smaller pieces

3-6 whole cloves

1 tablespoon black peppercorn

3 tablespoons minced garlic

1⁄8 cup sugar

3 tablespoons dried sage, rosemary, and thyme
Instructions
You can place all dry ingredients in a mason jar and store it in your cupboard.

If preparing this brine for your turkey, mix and completely cover the turkey with the dry brine.

Place the turkey in the refrigerator for 12-32 hours. Remove turkey and pat dry.

When you are ready, place the turkey in the oven to roast.