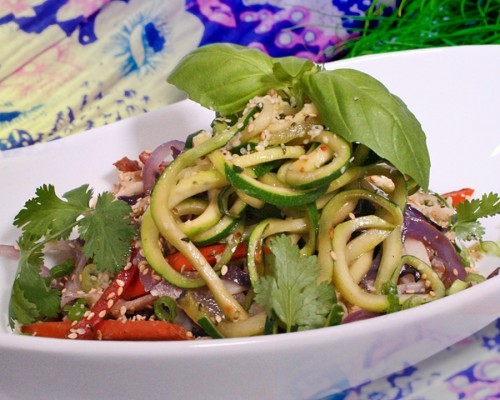 Colorful Gluten Free Pad Thai
Gluten-Free Pad Thai is the perfect gluten-free dinner for two. It is also perfect for those who are following a gluten-free lifestyle and are looking for healthy gluten-free meals. Not all gluten-free options are necessarily healthy gluten-free options. Look for recipes like this Colorful Gluten-Free Pad Thai which includes many vegetables and lots of flavors. Nutritious gluten-free dinners for two should be delicious and easy to prepare, especially when you are committed to living a gluten-free lifestyle.
Ingredients
2 zucchini, spiraled or julienned

2 garlic cloves, minced

½ red onion, thinly sliced

1 carrot, julienned

1 red bell pepper, thinly sliced

3 cups purple cabbage, thinly sliced

2 cups rice noodles

4 tablespoons sesame oil

 

Garnishment

3 green onions, thinly sliced

2 teaspoons sesame seeds

2 tablespoons hemp seeds

3 tablespoons cilantro, basil & mint

 

Dressing Ingredients

2 garlic cloves

1 tablespoon sesame oil

4 tablespoons water

1½ tablespoons maple syrup

1 tablespoon grated ginger

2 tablespoons soy sauce

2 tablespoons Coconut Milk (full fat) or Coconut Cream

¼ cup Nature's Eats Almonds

2 teaspoons chili flakes

½ teaspoon cayenne pepper

Extra spicy option: pinch of ghost pepper
Instructions
Spiralize zucchini and prepare other vegetables.

Combine all dressing ingredients in a Vitamix machine or blender and mix thoroughly.

Boil rice noodles, following directions on the package. Rinse noodles and put in a serving bowl. Place bowl to the side.

Heat sesame oil in a wok of large skillet on high. Sauté garlic cloves and onions in a wok for 1 minute.

Add zucchini, carrots, red pepper, and cabbage. Sauté for 1-2 minutes, keeping the vegetables semi crispy.

Remove sautéed vegetables from the stovetop. Place vegetables on top of rice noodles, then top with dressing.

Add garnishment on top.