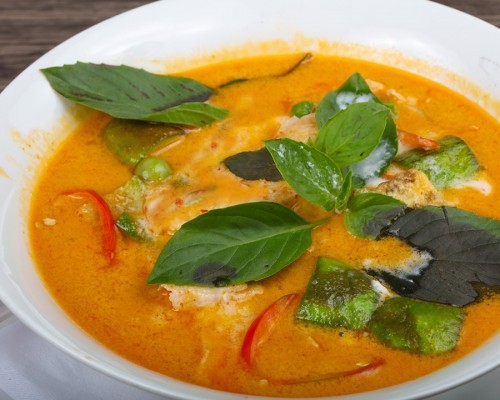 Coconut Vegetable Curry
Curry is one of those flavors that you find in many different cultures. From India to Thailand It is a spice that compliments many dishes. Our Vegetable Coconut Curry is amazing as the fats and flavoring from the coconut are paired with the curry, enhancing each other and making the vegetables in this healthy vegetarian curry tantalizing.
Ingredients
4 cloves garlic, chopped

1 tablespoon minced ginger

½ onion, chopped

1 tablespoon coconut oil

1 cup broccoli

½ cup carrots, chopped

1⁄3 cup diced red bell pepper

¼ cup peas

1 tablespoon curry powder

¼ cup Nature's Eats Shredded Coconut

1 can coconut milk

Salt and pepper to taste

½ bunch cilantro, chopped

Red chili flakes
Instructions
Sauté garlic, ginger, and onion in a pan with coconut oil over medium heat until oil is heated.

Add broccoli, carrots, bell pepper, and peas. Sauté for approximately five minutes.

Once the vegetables are tender add curry powder, Nature's Eats Shredded Coconut, coconut milk, salt, and pepper.

Simmer for approximately 10 minutes.

Serve the Coconut Vegetable Curry over rice or enjoy it as is.

Sprinkle with cilantro and chili flakes if desired.