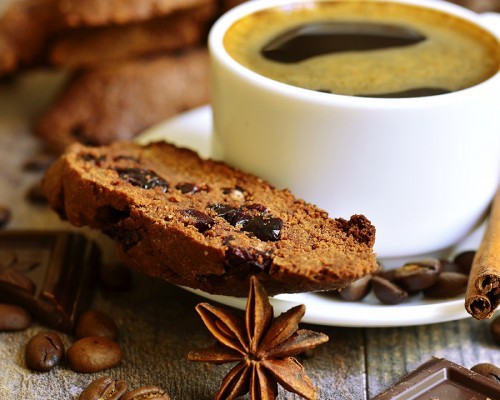 Chocolate Pumpkin Biscotti
Our Chocolate Pumpkin Gluten-Free Biscotti recipe is quite similar to gluten-free protein bars. These gluten-free biscotti are based in eggs and almond flour, reducing the number of carbohydrates you may find in regular biscotti. The eggs, almond flour, goji berries and pistachios included in this recipe also increase the levels of protein and healthy fats.
Ingredients
3½ cups Nature's Eats Almond Flour

1 teaspoons baking soda

½ teaspoon salt

2 teaspoons pumpkin spice

2 tablespoons cacao powder

1 tablespoon cacao nibs

1 teaspoon anise (optional)

½ cup Nature's Eats Pistachios

½ cup goji berries

2 eggs (or 2 flax eggs for vegan option)

¾ cup maple syrup or honey

3 tablespoons agave

1 teaspoon vanilla extract

½ teaspoon almond extract
Instructions
Preheat the oven to 325 degrees.

In a medium bowl whisk together dry ingredients: Nature's Eats Almond Flour, baking soda, salt, pumpkin spice, cacao powder, cacao nibs, anise, Nature's Eats Pistachios, and goji berries.

In a separate bowl mix the eggs, maple syrup or honey, agave, vanilla extract, and almond extract, and then add it to the dry combination. Mix to form a dough, and cut the dough in half.

On a baking sheet shape each ball into a flat log. Be sure to account for space for the dough to expand while baking.

Bake the logs for 20 minutes or until they appear cake-like. Next, take the logs out of the oven and reduce the temperature to 275°F. Allow the logs to cool for 10 minutes and then slice each log into ½ thick strips. Place the strips on their side on the baking sheet, then bake for an additional 15 minutes or until they are crisp.

Allow to cool, then store in airtight container. For longer shelf life store in refrigerator or freezer.